Northwestern to Play Host to Blood Drive Sept. 14-15
September 10, 2021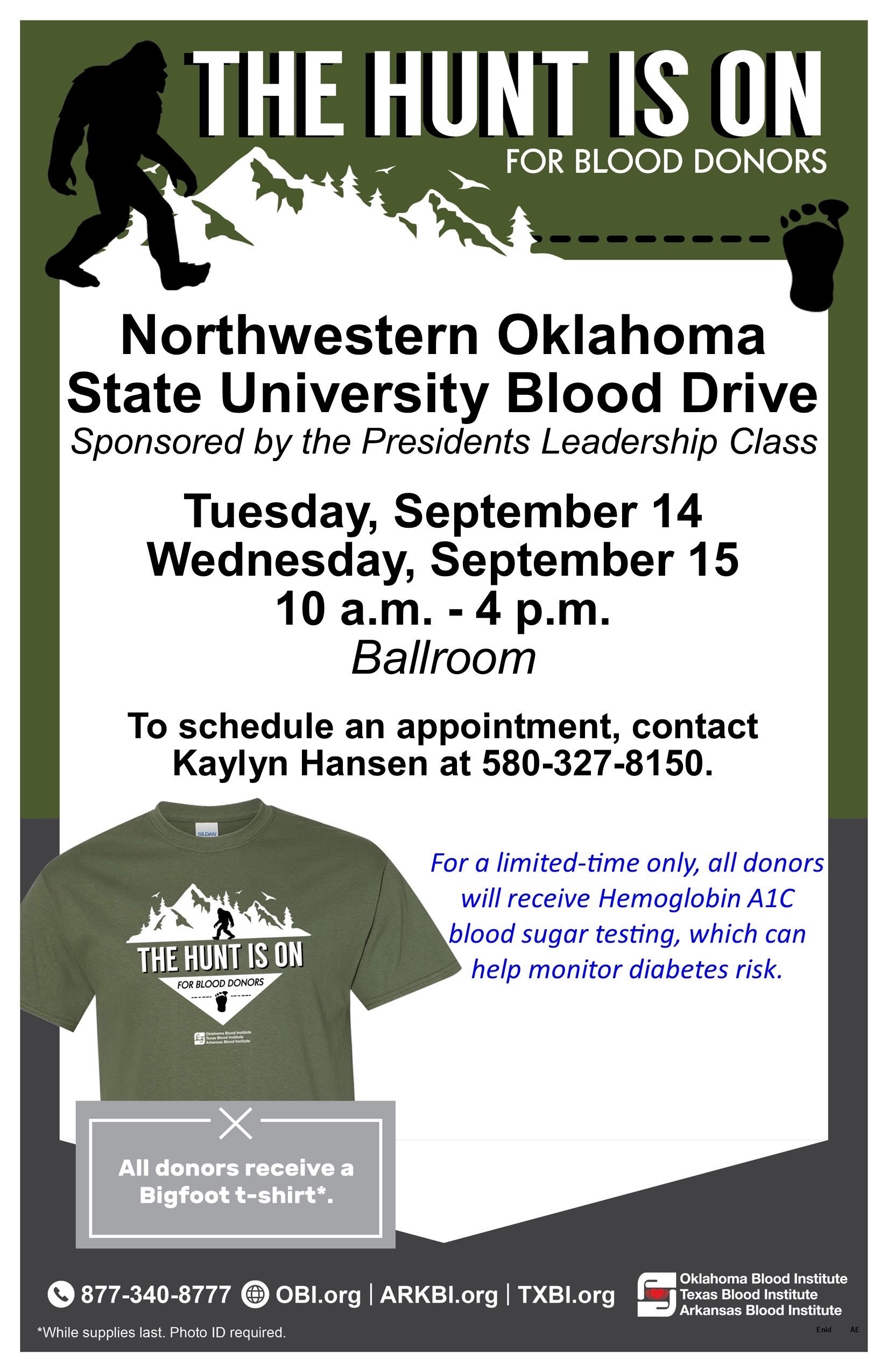 Northwestern Oklahoma State University's Alva campus is partnering with the Oklahoma Blood Institute (OBI) to hold a blood drive from 10 a.m. to 4 p.m. on Tuesday and Wednesday, Sept. 14-15, in the Student Center Ballroom.
The blood donor goal for the Northwestern President's Leadership Class-sponsored event is 101 blood units for the drive. This event is open to the public.
Blood donation is safe and critically important, despite concerns surrounding coronavirus (COVID-19).
All blood donors will receive a free limited edition "Bigfoot" t-shirt, free health screenings and donor rewards points. Free pizza will be available, and all donors will be entered in a drawing for a chance to win a $25 Northwestern bookstore gift card.
For a limited time only, all donors will receive Hemoglobin A1C blood sugar testing, which can help monitor diabetes risk.
"We urge healthy adults, age 16 and up, to make blood donation a priority, especially as the pandemic persists and the negative impact on the community blood supply continues," Kaylyn Hansen, service learning coordinator, said.
As COVID-19 and resulting concerns continue to spread, additional challenges to the blood supply have occurred, including canceled and postponed blood drives.OBI is the sixth-largest independent blood center in the nation, providing more than 90% of Oklahoma's blood supply to over 160 hospitals and medical facilities.
"The health of our donors is an integral part of our life-saving mission," said Dr. John Armitage, president and CEO of OBI. "As more Oklahomans are vaccinated, it is important for them to know they're eligible to give blood and platelets, even the same day they receive their vaccination."
Donors will need to show a photo ID to give blood.
"Giving blood is so rewarding," Katy Brashears, freshman PLC member of Beaver, said. "Since the start of the pandemic, blood donations have become more crucial than ever to patients. As a child of a first responder, I can also tell you that accidents happen all the time, and one person's donation could make the difference in saving someone's life."
Those wishing to donate are encouraged to go online and make an appointment. To make an appointment for Tuesday, Sept. 14, visit https://www.yourbloodinstitute.org/donor/schedules/drive_schedule/358171. To make an appointment for Wednesday, Sept. 15, visit https://www.yourbloodinstitute.org/donor/schedules/drive_schedule/358172.
For more information contact Hansen at (580) 327-8150 or klhansen@nwosu.edu.
-NW-
CONTACT FOR RELEASE:
Erin Davis, University Relations Specialist
eedavis@nwosu.edu, 580-327-8480