Northwestern to play host to bestselling author for Visiting Writer Series
January 18, 2018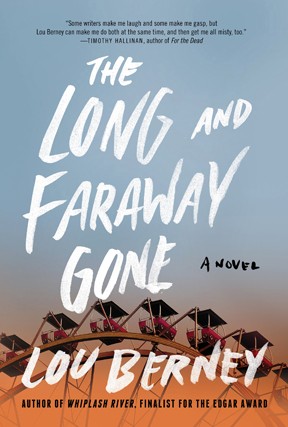 Lou Berney author of "The Long and Faraway Gone" will visit Northwestern for a reading on his fictional novel inspired by true events that took place in Oklahoma.
---
Northwestern Oklahoma State University's Department of English, Foreign Language and Humanities will play host to USA Today bestselling author Lou Berney for the Visiting Writer Series on Thursday, Feb. 1.
Members of the department welcome Northwestern students, faculty and staff as well as surrounding community members to partake in his visit as he reads from his novel "The Long and Faraway Gone." This event is free, and familiarity with the novel is not required to attend—or enjoy—the event.
Berney's reading will be in the Northwestern-Alva Education Center, room 109, on Feb. 1 at 7 p.m. The novel revisits the 1986 Oklahoma City movie theater murders and the 1986 disappearance of a teenage girl from the Oklahoma State Fair. "The Long and Faraway Gone" has been nominated for a Los Angeles Times Book Award, Best Mystery/Thriller Winner of the Oklahoma Book Award and the ALA Reading List Award. After the reading, Berney will take questions from the audience and talk about the success of the book. There will be a book signing following this event.
Berney has written screenplays and created television pilots for, among others, Warner Brothers, Paramount, Focus Features, ABC and Fox. He currently teaches in the Red Earth MFA program at Oklahoma City University.
Dr. Kathryn Lane, associate professor of English and chair to Northwestern's Department of English, Foreign Language and Humanities, said Northwestern is truly excited to have an author of his caliber for this event. Berney told Dr. Roxie James, assistant professor of English at Northwestern, his next novel is partly set in a city much like Alva, so he's looking forward to visiting the "real deal."
For more information on Berney, visit www.louberney.com.
The Visiting Writer's Series is a way to bring Oklahoma Writers to northwest Oklahoma every spring to discuss writing, the publishing industry and to share their work. This annual series is made possible through donations and raised funds. Anyone interested in giving a tax-deductible donation to the series or who has questions about it may contact Lane at (580) 327-8470 or kelane@nwosu.edu.
-NW-
CONTACT FOR RELEASE
Ali Gavitt, University Relations Specialist
apgavitt@nwosu.edu, 580-327-8480