Northwestern to have booth at Woods County Fair; Donations to be accepted for Campus Cabinet
September 3, 2019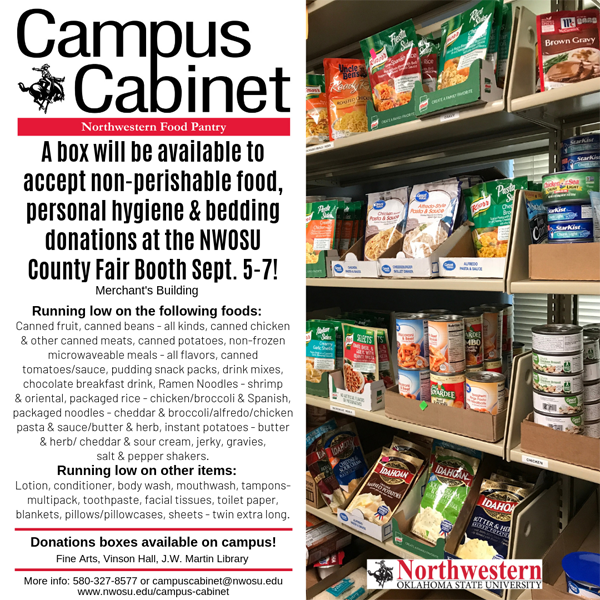 Northwestern Oklahoma State University will be participating in the annual Woods County Fair with a booth in the Merchants' Building Thursday and Friday, 3 to 9 p.m., and on Saturday, 8 a.m. to noon.
University personnel have volunteered their time to maintain the booth and visit with patrons about Northwestern. Prize packages of t-shirts and more will be given away to lucky winners who sign up at the booth.
A box also will be available to accept donations of non-perishable foods, personal hygiene items and bedding that will benefit university students and employees who utilize the Campus Cabinet food pantry.
Items the pantry currently is low on include:
Canned fruit, canned beans - all kinds, canned chicken and other canned meats, canned potatoes, non-frozen microwaveable meals - all flavors, canned tomatoes/sauce, pudding snack packs, drink mixes, chocolate breakfast drink, Ramen Noodles – shrimp and oriental, packaged rice - chicken/broccoli and Spanish, packaged noodles - cheddar & broccoli/alfredo/chicken pasta and sauce/butter and herb, instant potatoes – butter and herb/ cheddar and sour cream, jerky, gravies, salt and pepper shakers.
Also, lotion, conditioner, body wash, mouthwash, tampons-multipack, toothpaste, facial tissues, toilet paper, blankets, pillows/pillowcases, sheets - twin extra-long.
-NW-