Northwestern Symphony Band, Jazz Ensemble to present 'Into the Storm' March 10 in Alva
March 6, 2019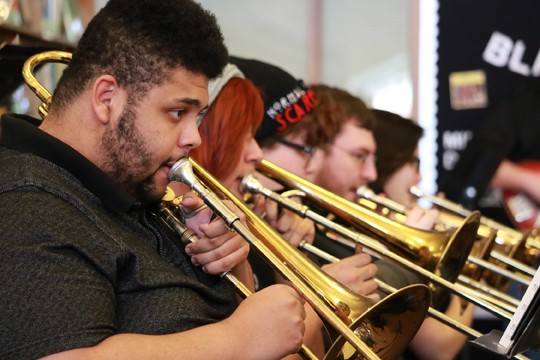 Alva freshman Darian Smith and the rest of the Northwestern Jazz Ensemble celebrate Black History Month in the J.W. Martin Library by playing tunes written by African-American musicians. They'll perform again March 10 at 2 p.m. in Herod Hall Auditorium.
Northwestern Oklahoma State University's Fine Arts Department will present the instrumental concert "Into the Storm," featuring the Symphony Band and the Jazz Ensemble, Sunday, March 10, at 2 p.m. in Herod Hall Auditorium on the Alva campus. Admission is free and open to the public, but donations are appreciated.
Both bands will play four songs each.
Two of the tunes to be shared by the Jazz Ensemble include "Heatseeker" by Larry Barton and "Birdland" by Joshef Sawinul.
During the Symphony Band's portion of the concert, the percussion members will play "Paradigm Shift," a piece written by Michael Seth Cudd, director of bands and instructor of music at Northwestern.
"The piece's name comes from the fact that there are dramatic shifts that occur throughout the music," Cudd said. "The music slowly fades in at the beginning; however, at the end of the piece the music returns to its beginning and fades out much like the music started.
The Symphony Band also will play the song for which the concert is titled, "Into the Storm" by Robert W. Smith.
"Most of the music we're playing will be energetic, so it should be an exciting concert to attend," he said.
In addition to the concert, Cudd planned a band banquet for the day before the concert specifically for band students. He said this was the first year to have a band banquet so he could recognize and thank the students for their hard work throughout the year.
"They are very busy," Cudd said. "They go to football games, basketball games, tour, concerts, contests, and there is a lot that happens behind the scenes that most people never see. Our band students work very hard."
For more information contact Cudd at (580) 327-8191 or mscudd@nwosu.edu.
-NW-