Northwestern student teachers enter area schools
September 15, 2017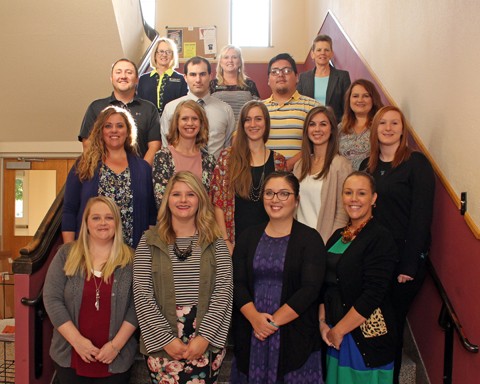 Fall 2017 teacher candidates
Senior education majors doing their student teaching in area schools are (front row, left to right) Beth Baker, Taylor Black, Shelby Bennett, Hilda Freeland; (second row) Jennifer Heitman, Jessica Morton, Connie Bryant, Sarah Van Drew, Nicole Marema ; (third row) Kale Dile, Matthew Thomas, Matthew Cowart, Angela Buller; (back row) education faculty are Dr. Martie Young, Dr. Christie Riley, Dr. Christee Jenlink.
---
Students leave Northwestern Oklahoma State University with the knowledge to succeed in a particular field. In their final semester, 13 senior education students have entered area schools to gain hands-on experience student teaching.
The students will return to campus for seminars in November and their portfolio exit interviews in December. Graduation is scheduled for Dec. 10.
Listed below are the students, their hometowns and teaching assignments.
Early Childhood Education – Taylor Black of Garber, Garber Elementary School (Garber); Jennifer Heitman of Ponca City, St. Lutheran School (Ponca City); Nicole Marema of Weeki Wachee, Fla., Washington Elementary School (Alva); Jessica Morton of Mooreland, Sharon-Mutual Elementary School (Sharon)
Elementary Education – Beth Baker of Woodward, Mooreland Elementary School (Mooreland); Connie Bryant of Cherokee, Cherokee Elementary School (Cherokee); Angela Buller of Ponca City, Woodlands Elementary School (Ponca City); Sarah Van Drew of Jacksonville, Ark., Japan
English Education – Shelby Brown of Beaver, Waynoka High School (Waynoka); Matthew Cowart of Holdenville, Cherokee High School (Cherokee)
Health and Sports Science Education – Kale Dice of Blackwell, Tonkawa Elementary School (Tonkawa)
Mathematics Education – Matthew Thomas of Alva, Waynoka High School (Waynoka)
Special Education – Hilda Craig of Enid, Pioneer-Pleasant Vale School (Enid)
Teacher candidates also were able to take part in the Teacher's Closet premiere event that helped each student get up to three, free and "new" professional outfits to help transition their wardrobe to professional dress. For more information or to donate gently used or new clothing to benefit young professionals contact Dr. Jen Oswald, assistant professor of education, at (580) 327-8582 or jdoswald@nwosu.edu or Dr. Jennifer Page, assistant professor of English, at (580) 327-8473 or jkpage@nwosu.edu. Find "The Teacher's Closet" on Facebook for updates.
For more information on Northwestern's teacher education program contact Dr. Christee Jenlink, professor of education and associate dean for the School of Education, at (580) 327-8450 or cljenlink@nwosu.edu.
-NW-
CONTACT FOR RELEASE
Ali Gavitt, University Relations Specialist
apgavitt@nwosu.edu, 580-327-8480