Northwestern Student Honored as 2021 Newman Civic Fellow
March 25, 2021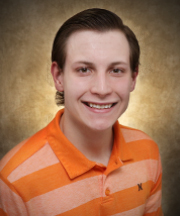 Braeden Cook, junior political science major at Northwestern Oklahoma State University, has been named a 2021 Campus Compact Newman Civic Fellow.
Campus Compact is a Boston-based non-profit organization working to advance the public purposes of higher education. The organization's 2021 cohort of Newman Civic Fellows is comprised of 290 students, including Cook.
"The Newman Civic Fellowship award is about working together with other community actors to bring social change," Cook said. "This is one thing I hope to do through starting the new College Republicans chapter on campus.
"We will work as a club to engage with the community in promoting not only Republican values, but values that we as Americans all share. Values such as the freedoms of speech and assembly, and our common distain for political violence of any kind."
The Alva native is heavily involved with the Oklahoma Intercollegiate Legislature. Cook even had his own piece of legislation passed with the OIL.
He is also an active member of the Ranger Marching and Concert bands.
"Both inside and outside the classroom, Braeden represents a highly motivated, engaged, and well-informed individual who understands how he and others across the political spectrum can work together at our university, in our broader community, and even across the nation," Dr. Eric Schmaltz, departmental chair of social sciences and professor of history, said. "The Newman Civic program offers a most constructive platform and environment for the next generation of citizens, like Braeden, to develop and expand their leadership skills and work toward the goal of contributing further to society."
Cook says he sees the Newman Civic Fellowship as a great opportunity to speak and engage with other people willing to work together to help find a starting point in working to unite the country. He says the goal is not necessarily for everyone to unite under a particular political party, but rather come to an agreement on values that are the foundation of the country.
The Newman Civic Fellowship, named for Campus Compact co-founder Frank Newman, is a one-year experience emphasizing personal, professional and civic growth. Through the fellowship, Campus Compact provides a variety of learning and networking opportunities, including a national conference of Newman Civic Fellows in partnership with the Edward M. Kennedy Institute for the United States Senate. The fellowship also provides fellows with access to apply for exclusive scholarship and post-graduate opportunities.
"We are proud to recognize these extraordinary student leaders and thrilled to engage with them," Andrew Seligsohn, Campus Compact president, said. "The experience of the last year has driven home to all of us that we need open-minded, innovative, public-spirited thinkers and doers. That is what Campus Compact is about, and the stories of our Newman Civic Fellows demonstrate it's who they are."
-NW-
CONTACT FOR RELEASE
Erin Davis, University Relations Specialist
eedavis@nwosu.edu, (580) 327-8480