Northwestern student honored as 2018 Newman Civic Fellow
March 14, 2018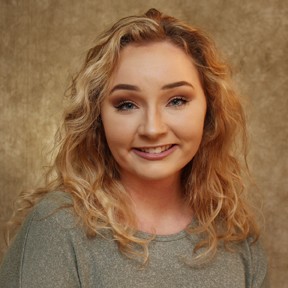 Northwestern student Riley Pearce of Enid was named a 2018 Campus Compact Newman Civic Fellow.
Campus Compact, a Boston-based non-profit organization working to advance the public purposes of higher education, has announced the 268 students who will make up the organization's 2018 cohort of Newman Civic Fellows, including Northwestern Oklahoma State University's own Riley Pearce.
Pearce, a senior political science major, from Enid is an active member of the university's Honors Program, the Psychology Club and the Civic Fellowship Program. She's been inducted into the Red & Black Scroll Honor Society and the Pi Gamma Mu International Honor Society. In May, she will complete her second internship at the Oklahoma State Capitol.
"Riley is a public servant at heart," Dr. Janet Cunningham, university president, said. "Her many volunteer activities include Feed the Children, Back-A-Youth, Food for Thought and March of Dimes. She is an advocate for legislation involving the use of illegal substances by pregnant women and the effects on the child born with said substance in his/her system. She has already considered the possibility of seeking public office."
The Newman Civic Fellowship, named for Campus Compact co-founder Frank Newman, is a one-year experience emphasizing personal, professional and civic growth. Through the fellowship, Campus Compact provides a variety of learning and networking opportunities, including a national conference of Newman Civic Fellows in partnership with the Edward M. Kennedy Institute for the United States Senate. The fellowship also provides fellows with access to apply for exclusive scholarship and post-graduate opportunities.
"We are thrilled to have the opportunity to celebrate and engage with such an extraordinary group of students," said Campus Compact president Andrew Seligsohn. "The stories of this year's Newman Civic Fellows make clear that they are bringing people together in their communities to solve pressing problems. That is what Campus Compact is about, and it's what our country and our world desperately need."
Campus Compact is a national coalition of 1,000+ colleges and universities committed to the public purposes of higher education. Campus Compact supports institutions in fulfilling their public purposes by deepening their ability to improve community life and to educate students for civic and social responsibility.
As the largest national higher education association dedicated solely to campus-based civic engagement, they provide professional development to administrators and faculty to enable them to engage effectively, facilitate national partnerships connecting campuses with key issues in their local communities, build pilot programs to test and refine promising models in engaged teaching and scholarship, celebrate and cultivate student civic leadership, and convene higher education institutions and partners beyond higher education to share knowledge and develop collective capacity.
The Newman Civic Fellowship is supported by the KPMG Foundation and Newman's Own Foundation.
-NW-
CONTACT FOR RELEASE
Erin Davis, University Relations Specialist
eedavis@nwosu.edu; (580) 327-8480