Northwestern Staff Council Planning Campus Cleanup Day Events
April 3, 2018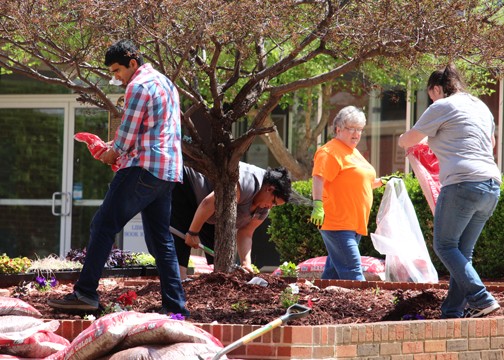 This year's event on the Alva campus is April 18 with Staff Council members joining volunteers at the Enid and Woodward campuses on April 25 for a similar cleanup event.
Northwestern Oklahoma State University's Staff Council is sponsoring Campus Cleanup Day events in Alva, Enid and Woodward this month and are looking for volunteers to help.
On Wednesday, April 18, from 1 to 4 p.m. on the Alva campus, all students and university employees are welcome to volunteer their services to help give the campus a facelift prior to welcoming alumni and guests back to campus for the annual Spring Reunion Day events on April 28.
Please contact Andrea Lauderdale, Staff Council member, at amlauderdale@nwosu.edu or (580) 327-8606 by Friday, April 13, with the names of students, faculty/staff members, administrators and club or organization members who would like to participate with this service project so that the Staff Council members will know how many volunteers to expect and make job assignments.
All volunteers should meet at 12:45 p.m. on the west side of the Student Center to receive instructions on the projects to be completed for the day. Volunteers also should dress appropriately for outdoor work. Tools, gloves and trash bags will be provided; however, volunteers may bring their own tools and gloves. For students and employees who cannot come at 12:45, please check-in to help at any time during the hours of the event.
Staff council will take a group photo of the volunteers at 12:45. Volunteers can come for the photo and go to class at 1 p.m., and come back to help when they can.
In case of inclement weather, Campus Cleanup Day in Alva will be moved to Monday, April 23.
On April 25, Staff Council members will be joining student and employee volunteers at the Woodward campus from 9:30 to 11:30 a.m. and at the Enid campus from 2 to 4 p.m.
Pre-registration at these two locations is requested by April 20. Woodward volunteers should pre-register by signing up at the front desk, and Enid volunteers should contact Tiffany Misak, administrative assistant, in the dean's office.
Staff Council appreciates all of the volunteers for these events because they could not do it without them. They're also excited to join colleagues and friends in Woodward and Enid again this year.
The Staff Council appreciates Dr. Mindi Clark, assistant professor of agriculture, and her students for growing and providing the plants to be planted on the campuses during these events.
A record of the number of hours volunteered by employees and students will be kept so it can be reflected in service learning reporting. Everyone planning to volunteer is asked to sign in and provide the approximate amount of time available to work.
Questions about Campus Cleanup or the Staff Council may be directed to Natalie Miller, Staff Council chair, at ndmiller@nwosu.edu or (580) 327-8441 or Lauderdale.
-NW-
CONTACT FOR RELEASE:
Erin Davis, University Relations Specialist
eedavis@nwosu.edu, 580-327-8480