Northwestern social work students enter the field
January 29, 2020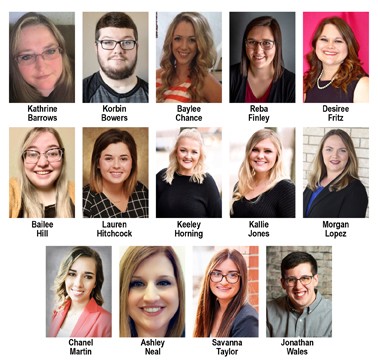 These 14 senior social work majors recently began their field practicums to fulfill requirements for a bachelor's degree in social work.
Bachelor-level social work students at Northwestern Oklahoma State University recently began their field practicums at agencies throughout Oklahoma. These 14 seniors entered practicum agencies to complete 420 contact hours, demonstrate 31 behaviors and master the program's nine core competencies as outlined by the Council on Social Work Education (CSWE).
"Immersing students into the world of social work allows them to develop the skills needed to become a bachelor-level social worker," Jennifer Pribble, assistant professor of social work and director of social work field education, said. "As the signature pedagogy for the social work program, the field experience component is very important and needed to increase social work competency for these students."
Each student in their field practicum is assigned to a field instructor, someone with specific credentials in the agency to reinforce social work ideas, behaviors and competencies.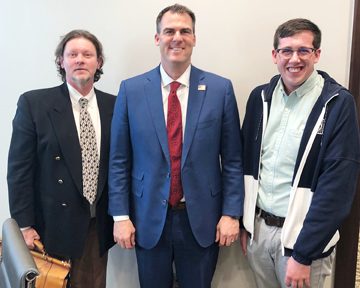 Northwestern senior social work major Jonathan Wales (right) is able to work alongside James Marks (left), executive director of the Oklahoma State Board of Licensed Social Workers, and on this particular day, Oklahoma's Gov. Kevin Stitt during his field experience assignment in Oklahoma City this semester.
"Without field instructors volunteering their time to contribute to the education of social work students the field practicum component of the program would not be possible," Pribble said. "They are a crucial part of the educational development for these social work students."
Listed below are the students currently in their field practicums, hometowns, and their practicum agency placements:
Kathrine Barrows of Blackwell, Oklahoma Department of Human Services in Newkirk; Korbin Bowers of Woodward, Woodward Public Schools; Baylee Chance of Woodward, Circle of Care in Woodward; Reba Finley of Arnett, Northwest Domestic Crisis Services in Woodward; Desiree Fritz of Enid, Circle of Care in Enid; Bailee Hill of Ponca City, Northern Oklahoma Youth Services in Ponca City; Lauren Hitchcock of Kiowa, Kansas, Northwest Family Services in Alva; Keeley Horning of Enid, Department of Human Services in Enid; Kallie Jones of Enid, Youth and Family Services in Enid; Morgan Lopez of Seneca, Missouri, YWCA in Enid; Chanel Martin of Mooreland, Western Plains Youth and Family Services in Woodward; Ashley Neal of Enid, Youth and Family Services of Northcentral Oklahoma in Enid; Savanna Taylor of Covington, Northwest Treatment Center in Waynoka and Department of Rehabilitation Services in Alva; and Jonathan Wales of Woodward, National Association of Social Workers-Oklahoma Chapter and the Oklahoma State Board of Licensed Social Workers in Oklahoma City.
For more information about Northwestern's social work department, contact Dr. Kylene Rehder, chair of the department and professor of social work, at (580) 327-8135 or kdrehder@nwosu.edu, or Pribble at (580) 213-3148 or jlpribble@nwosu.edu.
-NW-