Northwestern Social Work Department Seeking Formal Donations for Annual Event
January 23, 2019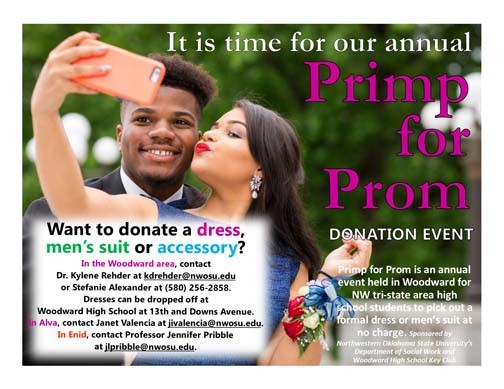 Primp for Prom Event Coming Soon
Northwestern Oklahoma State University's department of social work and Woodward High School Key club are joining forces once again to look for donations of formal dresses, men's suits, jewelry and shoes.
"Primp for Prom" is an annual spring event held in Woodward for Northwest/Tri-State area high school students to pick out formal attire and accessories at no charge. This year's event will take place at the Woodward High School practice gym with dates to be released soon. The practice gym is located at 13th Street and Downs Avenue in Woodward
"The Northwestern Department of Social Work is always honored to co-sponsor the Primp for Prom's enchanted closet," said Dr. Kylene Rehder, social work department chair and associate professor of social work. "We are thrilled with the opportunity to provide gorgeous dresses and stylish suits to area high school students so they can attend their important benchmark events and banquets in style. The success of this event relies on the generosity of others, therefore we are so grateful to our donors."
Students will be able to choose from all sizes, styles and colors that are donated. Fitting rooms also will be available for trying on clothes.
To donate in the Woodward area, contact Rehder at kdrehder@nwosu.edu or Stefanie Alexander at (580) 256-2858. Formal attire can be dropped off at Woodward High School at 13th and Downs Avenue in Woodward.
To donate in Alva, please contact Janet Valencia, secretary for the Department of Social Work and Division of Business, at jivalencia@nwosu.edu, and to donate in Enid, please contact Jennifer Pribble, assistant professor of social work, at jlpribble@nwosu.edu.
-NW-
CONTACT FOR RELEASE
Erin Davis, University Relations Specialist
eedavis@nwosu.edu 580-327-8480