Northwestern Singers Chosen to Perform at Statewide Music Conference in January
December 13, 2021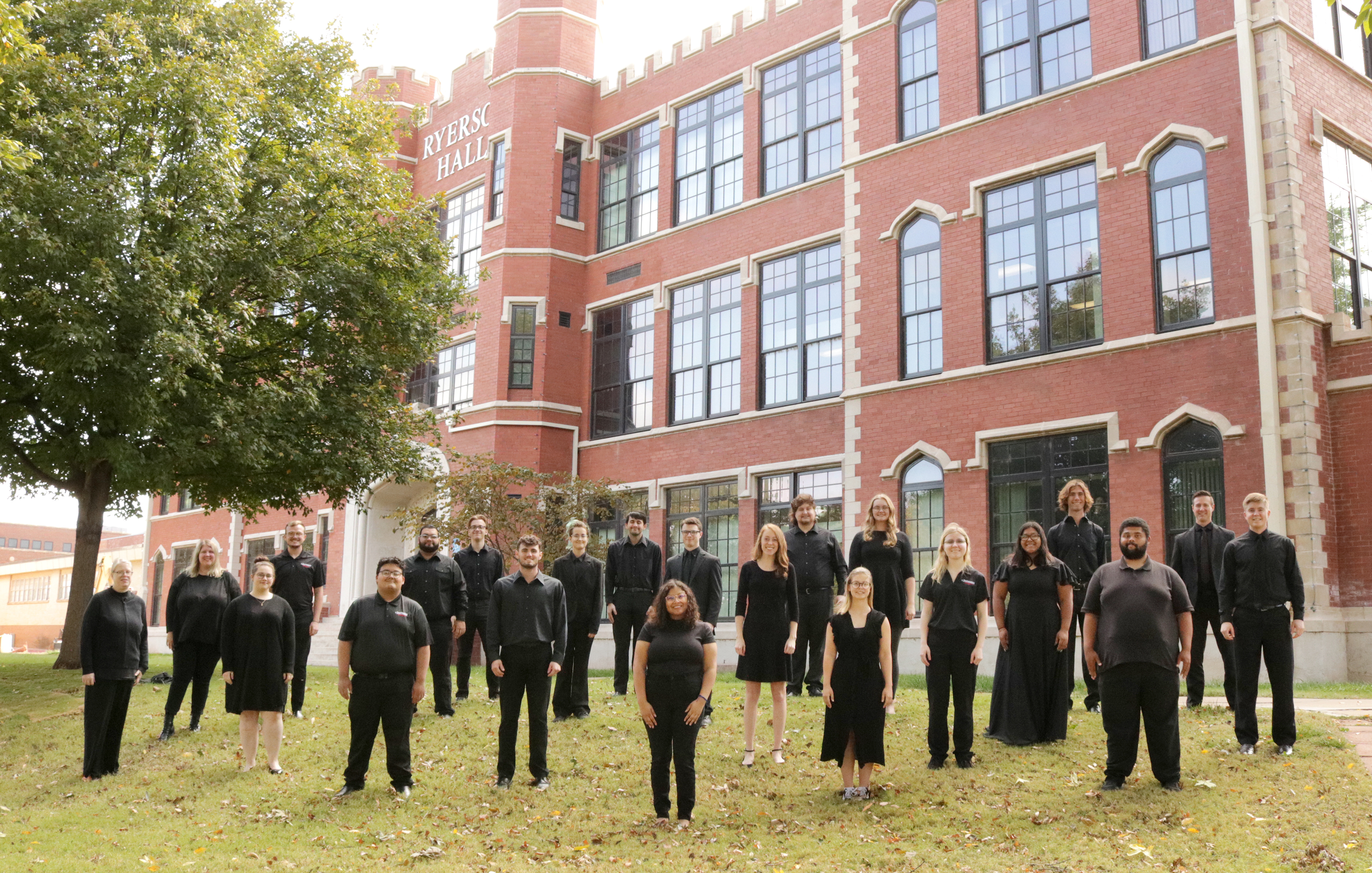 The Northwestern Oklahoma State University Singers are one of six groups chosen to perform at the Oklahoma Music Educators Association Conference in January 2022.
"We've been working all year towards this," said Dr. Karsten Longhurst, director of choral studies and assistant professor of music. "This is the biggest performance opportunity in the six years I've been here. It's a huge honor being able to present our work in front of our colleagues of the state and music."
The Northwestern Singers will perform on Thursday, Jan. 20, at 7:30 p.m. as part of the evening honor choral program at the First Baptist Church in downtown Tulsa. The admission fee is $10.
"I'm so excited and proud of Dr. Longhurst and the University Singers to represent Northwestern at this event," said Kimberly Weast, professor of theatre arts and chair of the Department of Fine Arts. "The opportunity for us to perform in the OkMEA has taken numerous years with wonderful former and current students offering many hours of preparation and dedication to be chosen. This opportunity will once again inform those in attendance that NWOSU has an excellent vocal music program."
Several choirs across Oklahoma submitted live recordings of their group singing to enter into the chance of being selected as one of the six groups who are chosen for this performance. The submissions were open to all ages.
"Northwestern is one of the smallest among the regional universities," Longhurst said, "So I think it speaks volumes for our program that we were given the opportunity to perform at such a prestigious event."
And, the students have been working diligently to prepare.
"We have been working super hard to get ready for our performance," said Gentry Mortensen, senior vocal music education major from Woodward. "We had three pieces commissioned for us for this performance, and they're absolutely beautiful. Because they were commissioned just for us, they've never been done by anyone else, meaning we don't have anything to go off of."
The three commissioned pieces include "Beneath These Alien Stars" composed by Dr. Matthew D. Nielsen, "To the Wonder" composed by Dr. Kira Zeeman Rugen and "Take My Hand" arranged by Stacey V. Gibbs.
The local community will have its first opportunity to hear these commissioned pieces Monday, Jan. 24, when the Northwestern Singers celebrate their OkMEA performance at a 7 p.m. concert in Herod Hall Auditorium on the Northwestern-Alva campus.
For more information about the Northwestern Singers, visit www.nwosu.edu/university-singers or contact Dr. Longhurst at (580) 327-8692 or email krlonghurst@nwosu.edu. More about all facets of the Fine Arts Department may be found at www.nwosu.edu/fine-arts.
-NW-