Northwestern science, math and music students benefit from Kenneth and Sue Fellers Family Scholarships
December 5, 2017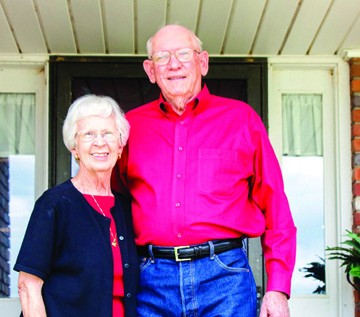 Kenneth and Sue Fellers
Northwestern Foundation & Alumni Association Press Release
These endowments were originally established in 2010 by Kenneth and Sue Fellers to provide assistance to students from northwest Oklahoma pursuing a degree in math, physical science or biological science (awarded in even years), or pursuing a degree in music (awarded in odd years). A generous gift from the Fellers in 2017 created the opportunity to establish two separate endowed scholarships – one for the area of math and sciences and one for the area of music – that will be awarded each year.
For Sue, a '64 music graduate, the scholarship will offer students the opportunity to share in her joy of music and, in return, share that joy with others. Sue recalls the extra expenses of majoring in music, including the lessons, the sheet music, and the practice room rental fees. According to Sue, she would not have made it without the support of others.
Kenneth, a '63 math and physics graduate, believes the scholarship will give stu­dents the opportunity to reach their goals. Kenneth and Sue both received scholarships while attending Northwestern. These scholarships made a difference in the couple's experiences, and they are determined to make a difference for today's students.
The Fellers' Northwestern educations have played key roles in their lives. Kenneth, who worked as a math teacher, now farms near Byron, Okla. Sue taught music before
remaining home to raise their two children. She continued to teach private lessons and is active in music at her church.
The Fellers are pleased to see Northwestern on the rise and have great expecta­tions for the university's future.
"Sue and Kenneth Fellers are the embodiment of the Ranger spirit," said Dr. Janet Cunningham, university president. "They are truly generous and sincerely interested in the success of students at their alma mater. They quietly go about making a difference every single day."
Full-time, continuing students with a minimum 3.0 cumulative grade point average are eligible for both the Kenneth and Sue Fellers Family Scholarship in Math and Sci­ence, and the Kenneth and Sue Fellers Family Scholarship in Music. Applicants must major in math, physical science and biological science for the math and science schol­arship, or major in music to be eligible for the music scholarship. To be considered, stu­dents must complete the scholarship application form through the Financial Aid Office on any Northwestern campus. The scholarships may be applied toward university-relat­ed expenses, including tuition, fees, books and room and board.
For more information on the Kenneth and Sue Fellers Family Scholarship in Math and Science and the Kenneth and Sue Fellers Family Scholarship in Music, or about in­vesting in Northwestern students, call Skeeter Bird, Northwestern Foundation & Alumni Association CEO, at 580-327-8593 or email him at aebird@nwosu.edu.
-NWF-
CONTACT FOR RELEASE
Leslie Nation, Marketing & Communications Manager
Northwestern Foundation & Alumni Association
Phone: (580) 327-8598
lnnation@nwosu.edu