Northwestern Receives TSET Grant for Health-Promoting Projects in Oklahoma
July 11, 2022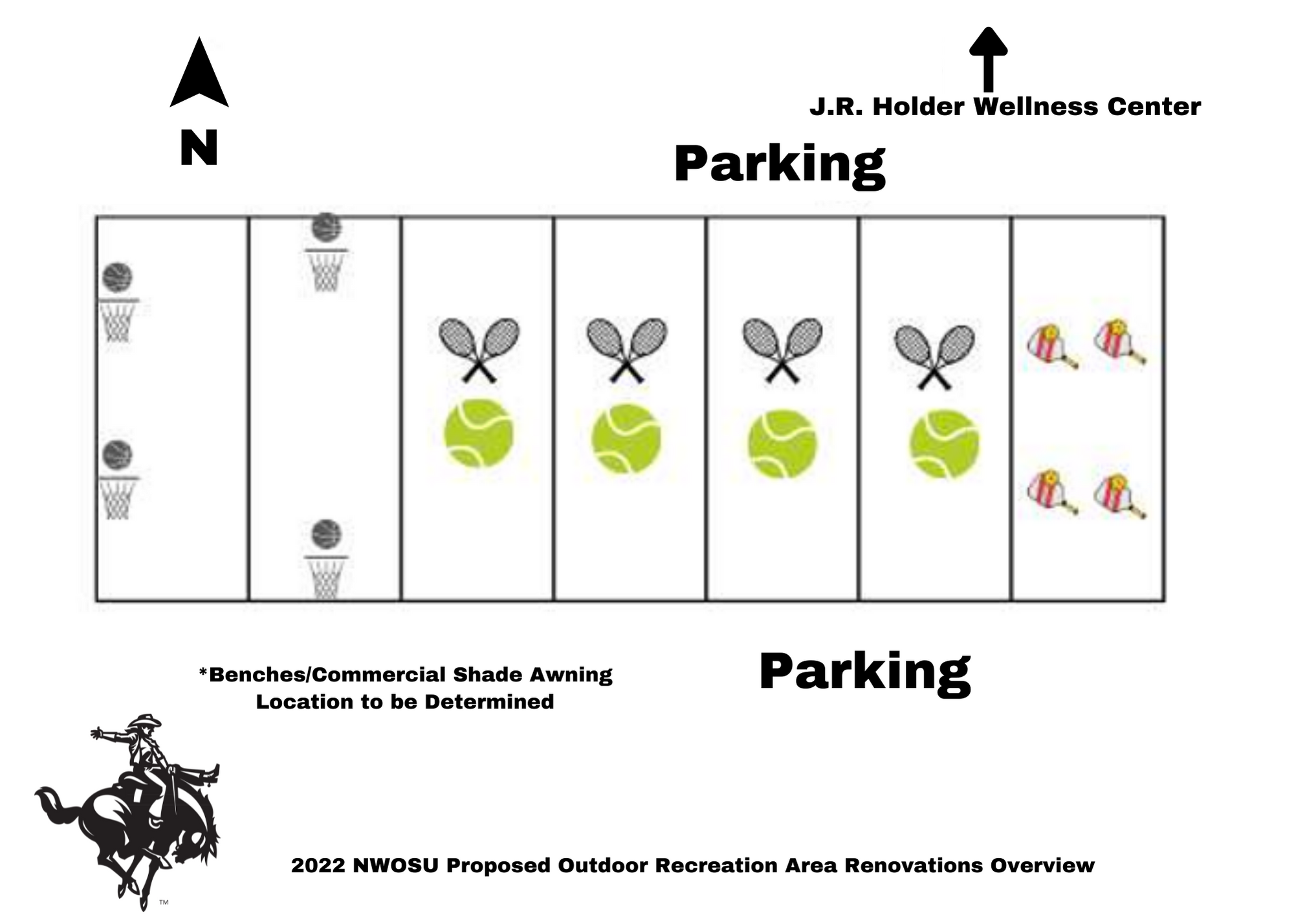 Northwestern Oklahoma State University will soon begin work on the 2022 NWOSU Tennis Court Renovation Project after receiving $50,000 from the Tobacco Settlement Endowment Trust (TSET) as part of an initiative to promote physical activity and healthier lifestyles, strengthen health policies and improve infrastructure.
The project will repair and resurface the entire area and add or replace equipment. Northwestern will add four pickleball courts and a full basketball court, replace the goals on the two half basketball courts and maintain the four tennis courts. In addition, 10 benches and a commercial shade awning will be added to the area.
"Oklahoma weather is hard on outdoor courts," Tandy Keenan, director of sponsored programs, said. "Regular maintenance is a must, but we wanted to do more than just repair and resurface the area."
Olivia Yandel, J.R. Holder Wellness Center director, and her staff surveyed the community and held a public forum to see what upgrades the community would like to see. Overwhelmingly, pickleball and full-court basketball topped this list, followed by tennis and seating options in the area.
"The popularity of pickleball has grown significantly in the last five years," Yandel said. "It's a sport that can be played by all individuals, regardless of age or physical activity level. I encourage anyone to play pickleball. It's easy to learn and a fun way to engage in physical activity.
"In addition, increasing the basketball court area and adding outdoor seating will also provide more opportunities for our Northwestern students to engage in conversation and get to know one another. I'm very grateful for the work that Tandy Keenan and Dr. Bo Hannaford have put into making this possible. We are excited to share this new facility with the campus and surrounding communities."
The award falls under a two-part funding opportunity offered by TSET – called Innovations in Active Living and Healthy Eating Grants and Policy and Built Environment Grants – that supports immediate, impactful programs to improve the health of Oklahomans. The TSET Board of Directors approved the awarding of nine grants between the two funding opportunities that totaled $2.8 million.
"The projects and improvements are exciting, innovative and bring together local partners to tackle the complex issue of improving health behaviors in communities across the state," said Julie Bisbee, TSET executive director. "These projects demonstrate thoughtful, long-term visions about how to equip communities with resources to help all Oklahomans make healthy choices."
The Oklahoma Tobacco Settlement Endowment Trust (TSET) serves as a partner and bridge builder for organizations working toward shaping a healthier future for all Oklahomans. TSET provides leadership at the intersections of health by working across the state, by cultivating innovative and life-changing research, and by working across public and private sectors to develop, support, implement and evaluate creative strategies to take advantage of emerging opportunities to improve the public's health. To learn more, visit Oklahoma.gov/TSET.
For more information contact Keenan at (580) 327-8110 or trkeenan@nwosu.edu.
-NW-