Northwestern plays host to student council workshops for June, July
June 11, 2018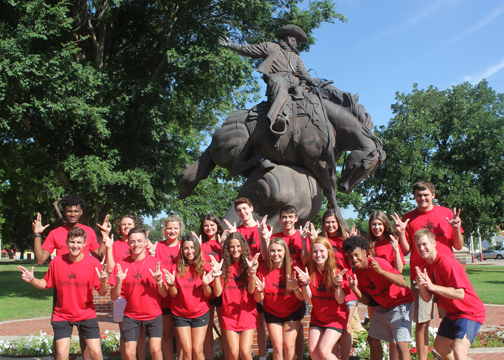 High school graduates preparing to be junior counselors attending the June OASC Basic workshop are (back row, left to right) Xavier Turner, Connor Bowles, Kyndall Erricson, Anna Wiewel, Jacob Dobbs, Ben Bosler, Katie Cheap, Annie Welborn, Matt Heinrichs; (front row) Cade Platt, Cayde Fivecoats, Haley Jones, Katherine Himaya, Ryleigh Jones, Meg Bush, Breland Steward and Travis Robnett.
Members of the Oklahoma Association of Student Councils (OASC) have gathered on Northwestern Oklahoma State University's Alva campus for BASIC, a leadership workshop June 10-15. About 288 high school students from across Oklahoma are attending this camp, where students engage in major skill development sessions.
Students attending for the week include high school sophomores, juniors and seniors. During the workshop, students are divided into 14 councils where they must come up with a school name, mascot, colors and a school song and chant. Students in each council also are given real life problems to solve and then act out their resolutions using skits. They also participate in breakout sessions that include leadership styles, team building, etiquette, school spirit and activities.

Junior Counselors, members of OASC who have graduated high school, were assigned to each of the 14 councils. Those students include Ben Bosler, Connor Bowles, Meg Bush, Katie Cheap, Jacob Dobbs, Kyndall Erricson, Cayde Fivecoats, Matt Heinrichs, Katherine Himaya, Haley Jones, Ryleigh Jones, Cade Platt, Travis Robnett, Breland Steward, Xavier Turner, Annie Welborn and Anna Wiewel.
Students are using various buildings around campus and stay in university housing along with the directors: Karen Koehn of Alva, workshop director for junior counselors and state officers; Kristi Neerman of Tulsa, director of facilities; Martha Embry of Tulsa, director of curriculum and adult staff; and Janet Carter of Sulphur, director of registration.
Koehn said she is very thankful to Northwestern and the Alva community for their support in playing host to the event.

A second BASIC workshop will take place on Northwestern's campus July 8-13.
-NW-
CONTACT FOR RELEASE
Erin Davis, University Relations Specialist
(580) 327-8480, eedavis@nwosu.edu