Northwestern opens online store featuring logo products
March 29, 2018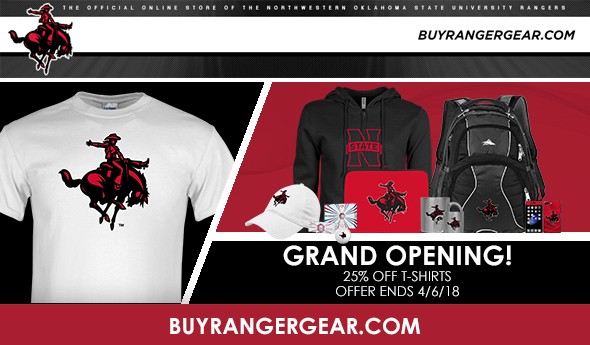 Check out BuyRangerGear.com for your Northwestern merchandise needs.
Officially-branded Northwestern Oklahoma State University merchandise, everything from shirts and caps, to watches and scarves for your pet, is now available at one convenient online site.
Northwestern and Advanced-Online have launched BuyRangerGear.com in order to allow fans, alumni, parents and students the ability to purchase merchandise representing the university's brand.
"One of the most frequent requests we have from alumni and parents is the ability to purchase logo merchandise online," said Dr. David Pecha, vice president for administration. "This new online store provides that service and even offers one-of-a-kind merchandise that is not available at our campus bookstore."
A select offering of official Adidas team merchandise, like those worn by coaches and players, also will be available at BuyRangerGear.com, as will a special collection of merchandise designed by Columbia.
BuyRangerGear.com will offer merchandise specials throughout the year, so shoppers are encouraged to check the site often. Rodeo branded merchandise will be added soon, as well as items related to the new women's track and field program.
Grand opening sales are available until May 3.
-NW-
CONTACT FOR RELEASE
Steve Valencia, Associate Vice President for University Relations
sjvalencia@nwosu.edu; (580) 327-8478