Northwestern Oklahoma State University Student Chosen to Present at 25th Annual Research Day
April 6, 2020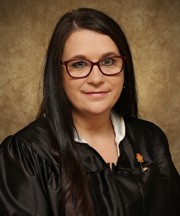 Joni Welch
Joni Welch, Alva senior, was recently selected to represent Northwestern Oklahoma State University at the 25th annual Research Day at the Capitol.
Welch was one of 22 undergraduate students representing 16 Oklahoma colleges and universities who were identified to participate in the prestigious event, which is designed to raise awareness of the outstanding undergraduate research that is taking place at Oklahoma's colleges and universities.
Welch and her team outlined research where patient outcomes are improved when receiving care from nurses that have received their Bachelor of Science in Nursing and those who engage in lifelong learning. The team consisted of fellow nursing students Brooke Handke, Tulsa senior; Amy Kleinvachter, La Crosse, Wisconsin, senior; and Tasha Swallow, Sharon senior.
"As Oklahomans face more complex health concerns, it is vital that healthcare professionals, including nurses, have the education to meet the patients' needs," Welch said. "Studies suggest that experience is not a substitute for higher education. The state of New York currently requires nurses with associate degrees to obtain a B.S.N. within 10 years of initial licensure. Similar legislation should be expected in the future for other states."
Research Day is sponsored by the National Science Foundation, Oklahoma NSF Established Program to Stimulate Competitive Research, and Oklahoma State Regents for Higher Education. Due to the COVID-19 pandemic, Research Day was canceled, but still honored the students' research.
-NW-