Northwestern News Wins Awards at OPA Contest
July 1, 2020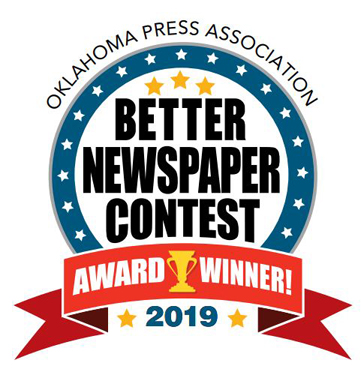 The Northwestern News, a student-produced publication at Northwestern Oklahoma State University, won six awards in this year's Oklahoma Press Association Better Newspaper contest.
The OPA announced the winners of the 2019 Better Newspaper contest in a video. Winners are usually announced at the annual OPA convention and awards banquet in Oklahoma City, but this year's convention has been postponed due to the coronavirus pandemic. The Board of Directors has moved the date to June 2021.
The Northwestern News won one first place, two second place and three third place awards for entries from the 2019 calendar year.
1st place award: Feature Photograph by Jordan Green, Blackwell freshman, titled "Hitting the breaking point," which is of a student heading toward a brightly painted car with a sledgehammer during a fun Student Government Association event.
2nd place awards: News Content, Northwestern News issues on Nov. 7, March 7 and April 25; In-Depth Reporting, "Marijuana and its impact" by senior Sean Doherty of Branson, Colorado, senior Ashley Watts of Wellington, Texas, and junior Michelle Willson of Conway Springs, Kansas.
3rd place awards: Layout & Design, Northwestern News issues on Sept. 26, Oct. 31 and Feb. 14; Editorial Writing, "LGBTQ history month 14" by freshman Carson Polk of Blountsville, Alabama, "What has shaped me" by senior Leah Darnell of Haysville, Kansas, and "You aren't alone" by junior Chuy Dominguez of Laverne; In-Depth Reporting, "Oklahoma public education faces the challenges" by junior Caitlyn Pray of Caldwell, Kansas, Northwestern graduate Capri Gahr of Carmen and Northwestern graduate Megan Brown of Alva.
"We are really proud to have done so well this year," said Dr. Kaylene Armstrong, Northwestern News adviser. "The students certainly proved that they can challenge even the largest programs in the state and still win awards."
Northwestern competes in the college newspaper category of this contest against students and newspapers from the University of Oklahoma, Oklahoma State University, University of Central Oklahoma, University of Tulsa, Cameron University, Langston University and others.
Brett Wesner, owner of 10 community newspapers in Oklahoma and treasurer of the National Newspaper Association, delivered opening remarks for the video.
"Hello and welcome to the first virtual awards ceremony of the Oklahoma Press Association, brought to you this year from my living room," Wesner said. "I don't think in my 32 years in this industry there has ever been a more important time to do what we do as community journalists.
"Whether bringing vital health information to our communities concerning COVID-19, or helping our communities understand how our public institutions can be affected by systemic racism, and, more importantly, what we can do about it, I don't think our work has ever been more vital."
The video is available to view at www.okpress.com/contest. Members of the Maine Press Association judged more than 1,300 entries from 74 Oklahoma newspapers in the contest.
The judge's commented, "With their ability to deliver much information in a 'small' package, the student journalists at Northwestern News capably prove that page size does not limit news coverage."
Student reporters in various journalism writing and photography classes provide stories and photos for the weekly paper. Because classes went to alternative instructional delivery methods after spring break, the staff did not produce weekly print papers but continued to update their website, http://northwesternnews.rangerpulse.com/, and the Northwestern News Facebook page.
To learn more about the Northwestern News, please contact Armstrong at (580) 327-8481 or kdarmstrong@nwosu.edu.
-NW-
CONTACT FOR RELEASE:
Erin Davis, University Relations Specialist
eedavis@nwosu.edu, 580-327-8480