Northwestern jazz ensemble concert on Alva's downtown square rescheduled for November 5
October 30, 2020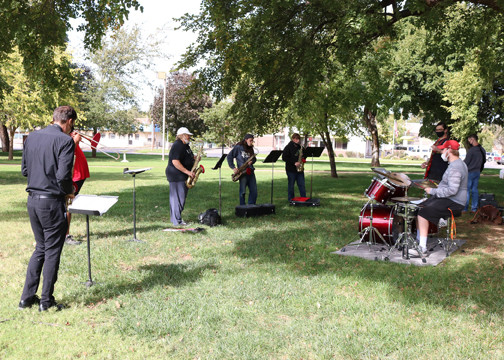 Members of one of the Northwestern Oklahoma State University jazz ensemble combos set to entertain a downtown square audience on Nov. 5 at 4 p.m. rehearses on the lawn of Herod Hall.
Inclement weather caused the postponement of the Northwestern Oklahoma State University jazz ensemble concert on the Alva downtown square recently, but it has been rescheduled for Thursday, Nov. 5, at 4 p.m.
Guests are welcome to attend the free outdoor event and are encouraged to bring their own chairs and blankets to socially distance on the lawn at the Woods County Courthouse bandstand area.
Dr. Seth Cudd, assistant professor of music and director of bands, said that because of COVID-19, the larger ensemble has been broken into four separate combos for the performance.
Alva's own Max Ridgway, an adjunct instructor of music at Northwestern, will be performing with the student combos, along with special guest John Shell.
Cudd said that Shell is a freelance musician, composer, retired band director and private trumpet instructor in the Edmond area. He taught for nine years in Kansas public schools, later teaching at Southern Nazarene University, Southwestern Christian University and Rose State College.
Shell has had arrangements performed by the Emporia (Kansas) State University Jazz Ensemble, the University of Central Oklahoma Latin Jazz Ensemble and Graduate Jazz Combo, and the Mother Fingers Jazz Band.
He earned a Master of Music degree in jazz studies (performance emphasis) from UCO in May 2013 after completing a Master of Music degree in performance from ESU in 2011. He earned a Bachelor of Music Education degree from Friends University in Wichita, Kansas, in 1997.
Shell also currently plays trumpet with the Old Bulldog Band in the Edmond area. This "vintage rock by vintage players" group – according to their Facebook page – is comprised of graduates of Edmond High School from the 1960s and 1970s, who played and sang in bands back in the day. The group performs classic songs from their junior high and high school days, as well as more current music.
"I've known John Shell for many years," Cudd said. "He's a fantastic teacher and an impressive jazz artist, and I feel like our students will benefit a great deal from being on the stage with him."
Cudd said that the four combos will perform some fairly well-known standard jazz tunes, including "Blue Bossa," "All Blues," "In a Mellow Tone," "My Funny Valentine," "When I Fall in Love," "Tune Up," "Maiden Voyage" and one of Shell's jazz arrangements titled "What Are You Lookin' At?"
To learn more about the instrumental music program at Northwestern, contact Cudd at mscudd@nwosu.edu or (580) 327-8191.
-NW-