Northwestern Implements Face Covering Policy On-Campus
July 27, 2020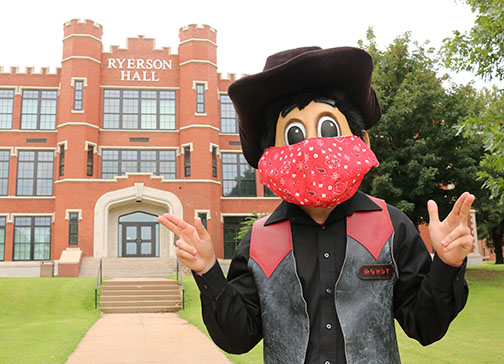 Starting July 27, Northwestern Oklahoma State University is requiring the wearing of face coverings on campus. The developed policy states that face coverings will be required in all classroom settings, as well as campus buildings. The only exception will be that face coverings may be removed in work offices when social distancing can be accomplished.
"Due to the surge of positive COVID-19 cases within Oklahoma, we must do what we can to help mitigate the spread of this virus and create an environment where we can keep classes as normal as possible," President Janet Cunningham said.
"The decision to require face coverings comes after a recommendation to me by Northwestern's Reopening Task Force that was comprised of faculty, staff, students and administration," Cunningham said. "The Task Force unanimously recommended that face coverings be worn inside campus buildings."
Northwestern's Reopening Task Force also developed plans for the student body to return to campus and how some events may look. This plan is subject to change at any moment.
To view the entire campus reopening document, Rangers' Return, visit www.nwosu.edu/coronavirus/reopening.
For questions regarding Northwestern's policy, call Kelsey Martin, director of marketing and university relations, at (580) 327-8478.
-NW-