Northwestern Homecoming was an all-around success; Homecoming 2020 date set
October 30, 2019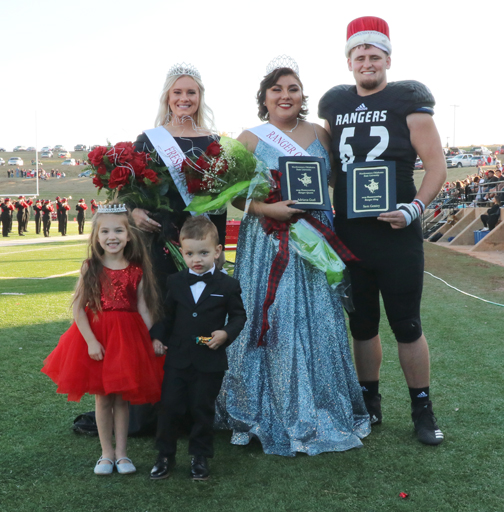 Ranger Royalty flower girl Sutton Hansen (front left) and crown bearer Watson Burdick (front right) escorted Sam Gentry and Adriana Guel, who were crowned Ranger King and Queen during Northwestern's Homecoming halftime event. Freshman Queen Payton Scott (back left) was named in an earlier on-campus ceremony and joined the group for the halftime event.
---
Hundreds gathered around the downtown square on Saturday, Oct. 26, for Northwestern Oklahoma State University's annual Homecoming parade, then headed to Ranger Field to watch the massed bands perform, learn who the Ranger Royalty and homecoming button winners would be, and to watch a Ranger football game, all to celebrate Northwestern's homecoming.
The theme was "Paint the Town Red: Homecoming 2019". People came from all over to be in Alva for this event.
Leading the parade on Saturday was parade marshal Thelma Crouch, former student and retired staff member of Northwestern (1988-2000).
After the conclusion of the parade, the winners of the floats and bands were announced.
First place for on-campus floats was Alpha Sigma Alpha sorority, second place was Delta Zeta sorority, and third place was Student Government Association.
In the off-campus, non-profit float category first place went to Cherokee Strip Museum, second place went to Alva First Christian Church, and third place went to Pack/Troop 392.
For the off-campus, commercial business float category, first place went to Community Bank and second place to Alva State Bank & Trust Company.
The President's Award for the best overall float went to the Community Bank. The Northwestern Alumni Association Ranger Spirit Award for the float depicting exceptional Ranger spirit went to Alva First Christian Church.
Eleven bands participated in the parade. Bands that placed include the following:
Middle School – Outstanding Drum Line, Pioneer-Pleasant Vale; first place in the marching competition, Pioneer-Pleasant Vale; second, Southwestern Heights; third, Chisholm.
Class 2A High School – Outstanding Color Guard, Pioneer-Pleasant Vale; Outstanding Drum Line, Laverne; first place in the marching competition, Pioneer-Pleasant Vale; second, Laverne; third, Cimarron.
Class 3A High School – Outstanding Drum Line, Alva; first place in the marching competition, Chisholm; second, Alva.
Seven bands in addition to the Northwestern band participated in the massed band performance bringing the size of the performance to about 350 students.
Northwestern played host to several other activities including the alumni band and the crowning of the Ranger King and Queen.
This year's Ranger Royalty included Ranger King Sam Gentry, a sophomore undecided major from Corpus Christi, Texas, who was sponsored by the Northwestern football team. He is the son of Marcus and Rebecca Darbonne.
Ranger Queen is Adriana Guel, a junior social work major from Los Angeles, California, who was sponsored by Chartwells Dining Services. She is the daughter of Ruben and Maria Guel.
Payton Scott of Newkirk was crowned Freshman Queen during the Ranger Royalty Finalist banquet. The agriculture business major is the daughter of Eddy and Tracey Scott.
Winner of the Northwestern homecoming button drawing for the $500 Alva Chamber Bucks was Errin Donaldson of Elk City. Her sister, Allysa Donaldson, is a freshman psychology major at Northwestern.
Northwestern's on-campus activities had a great turnout of decorations that showed Ranger spirit.
First place for the on-campus Paint Palooza Board Competition was the Castle Players Theatre Troupe with the Math Club taking second place.
The winner of the residence hall decoration contest was Fryer Hall.
The winning window/door display went to the Office for Student Success and Retention, and the J.W. Martin Library placed second.
Northwestern's Homecoming Committee had a drawing incentive for button salespersons where two winners could take home $50 in Chamber Bucks. The winner of the drawing for button salespersons for on-campus sales was Angelia Case, academics projects assistant and media specialist for Northwestern, and the winner for off-campus sales was Baylei Hada.
"Thank you to everyone who sold and purchased Northwestern homecoming buttons and to those merchants who provided incentives to be used with these buttons," Karen Koehn, Homecoming button chair, said. "The excitement in the air around Homecoming continues to make my heart and hopefully yours, jumps just a little bit. This is a great community, and the support you invest in our university's homecoming is heartwarming. Homecoming festivities are only successful when the entire community comes together to make it work. You continue to inspire me and restate my favorite saying, 'Lucky me…I live in Alva, OK!'"
Homecoming is a community effort, and the homecoming committee is grateful to everyone who made the week and official homecoming day a success.
"Mother nature gave Alva a break on Saturday from the bad weather for the parade and all of the other festivities," said Dr. David Pecha, homecoming chairman and vice president for administration. "Thanks to all of the friends and alumni of Northwestern for their continued support of homecoming. The committee has already started work for Homecoming 2020!"
Homecoming 2020 is set for Oct. 10, 2020. Be watching for a contest to open during the spring semester to enter ideas for next year's homecoming theme and parade marshal. Until then, a web page has been established for people to enter the competition at www.nwosu.edu/homecoming. The homecoming committee will consider all entries and make an announcement of the new theme and parade marshal during the spring semester.
Photos from the homecoming events can be found at https://nwosuhomecoming.shutterfly.com/.
-NW-
CONTACT FOR RELEASE
Erin Davis, University Relations Specialist
eedavis@nwosu.edu; 580-327-8480