Northwestern Homecoming button sales begin Sept. 6; Homecoming set for Sept. 30
September 1, 2017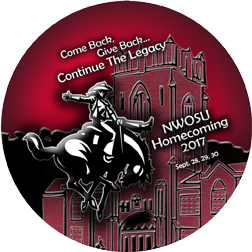 Northwestern Oklahoma State University's Homecoming Button design for the Homecoming 2017 theme, "Come Back, Give Back, Continue the Legacy…" Buttons go on sale Wednesday. Sept. 6.
---
Take advantage of approximately 30 local merchants' discounts and a chance to win $500 in Alva Chamber bucks by purchasing a 2017 Northwestern Oklahoma State University homecoming button. The buttons designed for the 2017 Homecoming, "Come Back, Give Back, Continue the Legacy…" will go on sale Wednesday, Sept. 6, at 5 p.m. during a kickoff celebration at Holder Drug.
Button salespersons are invited to pick up their packets then to begin selling.
Northwestern fans on and off campus are encouraged to show their pride by purchasing a button as a way of supporting the annual event set for Sept. 28, 29 and 30. The sale of buttons is the primary funding source for Homecoming, and supporters are encouraged to buy buttons even if they will not be able to attend all the events.
Each homecoming button is numbered and has a chance to win $500 in Alva Chamber bucks. The winning button will be drawn during the homecoming football game on Saturday, Sept. 30, and the drawn number must be present to win.
Making the button even more of a great deal, some local merchants will be offering discounts to patrons who wear a Homecoming button into their businesses during the week of Homecoming, Monday, Sept. 25, through Saturday, Sept. 30. A list of discounts and participating merchants is available at www.nwosu.edu/homecoming.
"The buttons pay for every aspect of homecoming," Karen Koehn, button sales chair, said. "The costs include everything from parade floats to Miss Cinderella, to the banners that are strung across the streets on the downtown square.
"We've been fortunate to keep the price of the button at $10, so everyone can afford one. The button alone saves an individual money if attending both Miss Cinderella events and the football game."
The best way to support Homecoming is to purchase a button, the proceeds of which provide a financial foundation to ensure Homecoming remains a major event for years to come.
A homecoming button sells for $10 and is a $38 value, providing admission to the Miss Cinderella Talent Show and the Miss Cinderella Pageant. Each of those events has a ticket price of $10, and tickets to the homecoming football game against Southeastern Oklahoma State University are $18. Those cost-saving measures are complemented by the discounts at participating merchants and the $500 Chamber bucks prize.
Koehn has secured 50 sales persons across northwest Oklahoma and urges the community and all Rangers to buy a Homecoming button to show Ranger pride.
"Through teamwork, our community continues to excel in providing a highlight of friendship and relationships through all of the homecoming festivities," Koehn said. "Your continued support is greatly appreciated! Ride, Rangers, Ride!"
Each building on the Alva campus will have a button sales representative. Contact Koehn at kkoehn@nwtech.edu or (580) 327-7273, to find out who is representing each building or if interested in purchasing buttons.
Tiffany George, Enid campus administrative assistant, (580) 213-3101, is the Enid button sales representative, while Milissa Sturgill, Woodward campus coordinator, can be contacted for buttons in Woodward at (580) 254-2503.
Anyone who wants to purchase buttons and is not contacted by one of the salespersons can buy them at the Alva Chamber of Commerce office located at 502 Oklahoma Blvd., (580) 327-1647; the Northwestern Foundation office in the Student Center, (580) 327-8593; or the Northwestern business office in Herod Hall, (580) 327-8536.
Buttons also will be available in Alva at Alva Vision Clinic (580) 327-2393; Graceful Arts Center (580) 327-2787; Holder Drug (580) 327-3332; LaDEEda's (580) 327-0382; Rialto (580) 327-0535; Sights and Sounds/Radio Shack (580) 327-0409; and Shepherd Oil Convenience Store (580) 327-8055.
-NW-
CONTACT FOR RELEASE
Ali Gavitt, University Relations Specialist
apgavitt@nwosu.edu, 580-327-8480