Northwestern History Professor Reviews McGraw-Hill Company History Textbook
December 13, 2021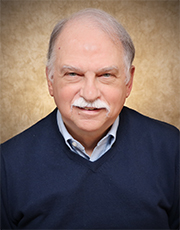 Dr. Roger Hardaway, professor of history at Northwestern Oklahoma State University, recently participated in a scholarly activity that few of his peers ever experience. He was asked by textbook publisher, the McGraw-Hill Company, to review, evaluate and suggest revisions to the U.S. History textbook that Northwestern and hundreds of other colleges in the country have used for decades.
Hardaway said "The Unfinished Nation" is used for Northwestern's freshman-level U.S. survey courses. In one form or another, the book has been around since the 1960s and is revised and updated every few years. Hardaway said he has taught more than 200 class sections of the U.S. survey to 5,000 students using that text beginning with the first college history class he taught in 1980.
Only a few historians are invited to recommend revisions, Hardaway said. He was one of 16 reviewers for the new edition of the textbook that will be available in Fall 2022. Hardaway was asked to review two of the 31 chapters in the book. Those sections cover the Reconstruction Era after the Civil War and the Progressive Era of the early 20th century.
"What I did was look for factual errors and suggest revisions that amend and improve the narrative," Hardaway said.
Hardaway made recommendations on updating Civil War casualty numbers based on recent analysis of those statistics. He also helped revise several other topics such as the discussion of the work settlement house workers did in the Progressive Era to help poor (often immigrant) Americans adjust to life in the country's cities.
One mistake that he was able to get changed is that the current text states that Secretary of State William Seward was wounded by a would-be assassin's bullet the same night that President Abraham Lincoln was fatally attacked. But Seward, who survived, was stabbed—not shot.
"That error has been in the various editions of the textbook for decades," Hardaway said. "Hopefully, because I convinced the book authors to revise that portion of the narrative, thousands of college students will no longer be learning an erroneous "fact" when they take their U.S. History courses. I'm especially proud to be able to say that I got that change made to the book."
Hardaway said he was really surprised that the authors incorporated most of his suggestions into their book.
"I was truly honored to be part of the process of improving this important text," Hardaway said. "Historians are trained to get the stories they tell as factually accurate as possible. I am glad that I had the opportunity to work on revising this volume. The changes that I helped make will be incorporated into future editions of the book that will be published long after I am retired from teaching."
For more information on Northwestern's history program contact Hardaway at rdhardaway@nwosu.edu or call (580) 327-8520. Additional information may be found at www.nwosu.edu/school-of-arts-and-sciences/social-sciences/history-and-global-studies.
-NW-
CONTACT FOR RELEASE
Erin Davis, University Relations Specialist
eedavis@nwosu.edu, 580-327-8480