Northwestern Hires Jack Staats as the William Donald Campbell Family Chair in Agriculture
May 1, 2020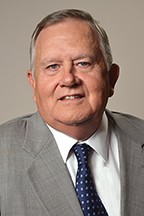 Jack Staats
Joining Northwestern Oklahoma State University this fall as an instructor of agricultural education is Jack Staats, who has been hired as the William Donald Campbell Family Chair in Agriculture.
Staats brings a wealth of knowledge to the students of Northwestern, and he plans to incorporate his wide-range of experience into his classes at the university. He taught agricultural education at Freedom High school from 1973-176, Buffalo High School from 1976-1977, and Alva High School from 1977-2007. Staats went on to serve as the program manager and Oklahoma FFA adviser for Oklahoma's Department of Career and Technology Education. Leadership and enthusiasm for teaching agricultural education are passions of his, and these traits will be expected from his students, as well.
"We are very excited that Jack is going to be a member of our agricultural team here at Northwestern," said Dr. Dean Scarbrough, chair of the agriculture department. "Oklahoma continues to see a critical need for the preparation of certified agricultural education teachers in the state. Jack's vast experience as an agricultural education teacher, state program administrator, and state FFA adviser speaks for itself, and will greatly benefit our efforts to produce classroom-ready graduates.
"Anyone who has ever known Jack can readily see his passion for agricultural education and for the development of new generations of teachers entering the discipline. We are truly thrilled that he will continue his legacy of positively impacting young people's lives, and the field of agricultural education, as a Northwestern Ranger."
Staats will be teaching classes such as Live Animal Evaluation and Livestock Production but also many of the mechanized agriculture classes such as Metals and Welding and Agriculture Structures. Another of his courses, entitled Planning the Community Program in Agricultural Education, will emphasizes topics such as program policies in agricultural education, FFA chapter advisement, and interaction of high school agriculture programs with local school and community members.
"I am excited to join the Ranger faculty," Staats said. "My goal has always been to inspire young people into becoming successful as they pursued careers in agriculture. I feel the next step for me in advancing the career pathways in the field of agriculture is to help recruit and train young people as they become part of the agricultural education teaching profession."
To learn more about Northwestern's agriculture program and the classes offered visit www.nwosu.edu/school-of-education/agriculture or contact Scarbrough at dascarbrough@nwosu.edu or (580) 327-8487.
-NW-