Northwestern Foundation & Alumni Association annual meeting set for Sept. 19
August 30, 2017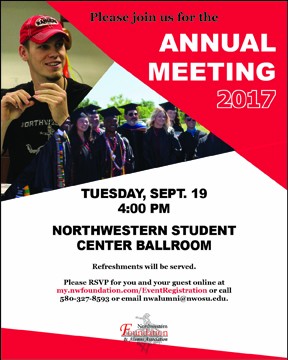 Northwestern Foundation & Alumni Association annual meeting poster - meeting is set for Sept. 19
---
The Northwestern Oklahoma State University Foundation & Alumni Association will hold its Annual Meeting on Tuesday, Sept. 19 at 4:00 p.m. The meeting will be held in the Student Center Ballroom on Northwestern's Alva campus.
The public is invited to attend. RSVPs should be made by Sept. 11 and can be completed online at my.nwfoundation.com/EventRegistration, or by calling (580) 327-8593 or emailing nwalumni@nwosu.edu. The agenda includes recognition of donors who have reached new levels of giving, a report of the 2017 fiscal year and the selection of new trustees and officers.
For more information, contact Skeeter Bird, Northwestern Foundation CEO, at aebird@nwosu.edu or 580-327-8593.
###