Northwestern Fine Arts to present Nunsense: The Mega Musical
February 15, 2018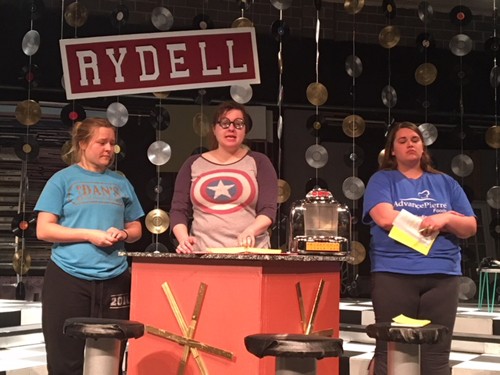 Rehearsing a scene from the upcoming musical comedy "Nunsense: The Mega Musical" at Northwestern are Kenzi Winter, Tori Hurley and Erin Hopkins-Davis. The show will take place in Herod Hall Auditorium on Feb. 22-23 at 7 p.m. and Feb. 24 at 2 p.m.
More than 50 people have been in rehearsals, building set, getting costumes and stage props ready as the Northwestern Oklahoma State University Fine Arts Department prepares for "Nunsense: The Mega Musical" set for Feb. 23 at 7 p.m. with two shows on Feb. 24 at 2 and 7 p.m. in Herod Hall Auditorium on the Alva campus.
Tickets for this show will be available at the door and are $5 for university and public school students with current IDs, $10 for Northwestern employees with current IDs and $15 for the general public. Groups interested in attending should contact Fine Arts Department Chair Kimberly Weast, professor of theatre arts and director of the production, at (580) 327-8462 or kkweast@nwosu.edu.
This musical will depict a hilarious talent show staged by five nuns from Hoboken, who were the only sisters to survive botulism at the nunnery after eating vichyssoise prepared by Sister Julia, Child of God. Before all of the deceased sisters can be buried, Reverend Mother Superior buys a plasma TV for the convent - resulting in not having enough money to bury the four remaining sisters (which, by the way, are temporarily being stored in the freezer). The remaining five sisters parade their talents at a variety show staged to raise funds so that the last four of the dearly departed can be buried.
"We wanted to do something encouraging, uplifting and fun – all rolled up into one," Weast said when explaining why she decided on this musical for the spring semester.
Karsten Longhurst, director of choral studies and instructor of music, is serving as the musical director while Connie Bryant, a December graduate from Cherokee, is serving as choreographer. Mickey Jordan, Iowa Park, Texas, graduate student, has designed the set, and Tori Hurley, Sheffield, Iowa, senior, and Weast are working with the lighting design. Weast also is working on costuming and the audio design while Nicholas Wygle, Noble junior, will run the audio board. Allie Smith, Hawkins, Texas, sophomore, is the Stage Manager. Members of the theatre production class helped build the set.
Cast members in the production, their character names, hometowns and classifications include Chloe Henderson as Sister Mary Leo, Conway Springs, Kansas, freshman; Kenzi Winter as Sister Amnesia, Ft. Supply freshman; Michelle Penner as Reverend Mother, Cherokee post-graduate; Erin Hopkins-Davis as Sister Mary Hubert, Fairview senior; Ansley Elliot as Sister Robert Anne, Tecumseh sophomore; Allyssa Casey as Sister Mary Wilhelm Alta Loma, California, sophomore; Maxwell Archer as Brother Simon, Tulsa freshman; Zedan Borrie as Brother Luke, Blackwell junior; Michael Day as Brother Timothy, Okeene freshman; Erin Lehr as Sister Mary Louise, Alva graduate student; Katherine Blair as Sister Kim, Waynoka sophomore; Dr. Richmond Adams as Friar Virgil, assistant professor of English; Hurley as Sister Julia, Child of God; and Jordan as Brother Brendan.
Members of University Singers will be taking part in the production as will members of the university band who will be providing live, musical accompaniment.
University Singers in the production include Mikayla Carpenter, Clinton freshman; Katelyn Cutsinger, Vici junior; Zach Henson, Checotah freshman; Reginald Hinson, Bristow freshman; Madison Hofen, Alva junior; Mercedez Kirkhart, Alva sophomore; Erin Norrie, Enid senior; Aaron Pierce, Alva junior; Alexis Shaffer, Kiowa, Kansas, sophomore; Tori Witchey, Laverne freshman; Borrie, Day and Winter.
Members of the band include on trumpet - Dr. Marc Decker, assistant professor of music and director of bands at Northwestern; and Dr. Tim Maharry, professor of mathematics and chair of the math/science department; trombone – Brittni Taylor, Enid sophomore; alto saxophone – Jacob Steckbeck, Enid freshman; flute – Mikalyn Stuber, Enid freshman; clarinet – Amanda Metcalf, Enid junior; piano – Susan Duell, adjunct instructor of music; violin – Greg Simpson, R.L. Simpson and Michael Simpson from Kiowa, Kansas; drummer – Darin Kearns, pastor of the Alva Friends Church; and bass guitar – Kyle Newland, former instrumentalist and singer at Northwestern originally from Blackwell.
"The rehearsals for the pit are going really well," Longhurst said. "We will be on stage playing live for the musical and a part of the show. We are thrilled to be working with Northwestern students, alumni and friends in the community."
-NW-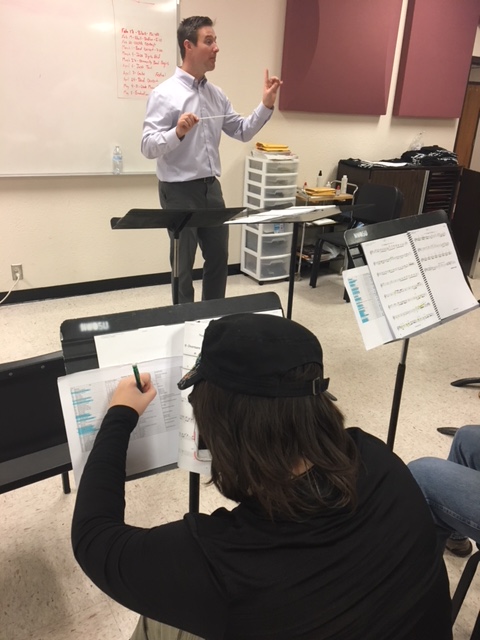 Karsten Longhurst rehearses with members of the band that will provide accompaniment during "Nunsense: The Mega Musical" Feb. 23 at 7 p.m. with two shows on Feb. 24 at 2 and 7 p.m. in Herod Hall Auditorium on the Northwestern-Alva campus.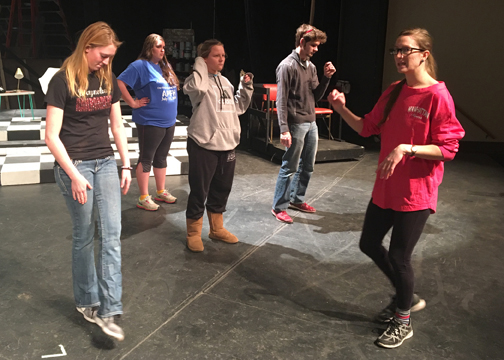 Learning the choreography for the musical "Nunsense: The Mega Musical" from Connie Bryant (far right) are cast members (from left) Katherine Blair, Erin Hopkins-Davis, Kenzi Winter and Michael Day Feb. 23 at 7 p.m. with two shows on Feb. 24 at 2 & 7 p.m. in Herod Hall Auditorium on the Northwestern-Alva campus.