Northwestern Faculty Members Featured on Oklahoma Humanities Council Podcast
November 13, 2020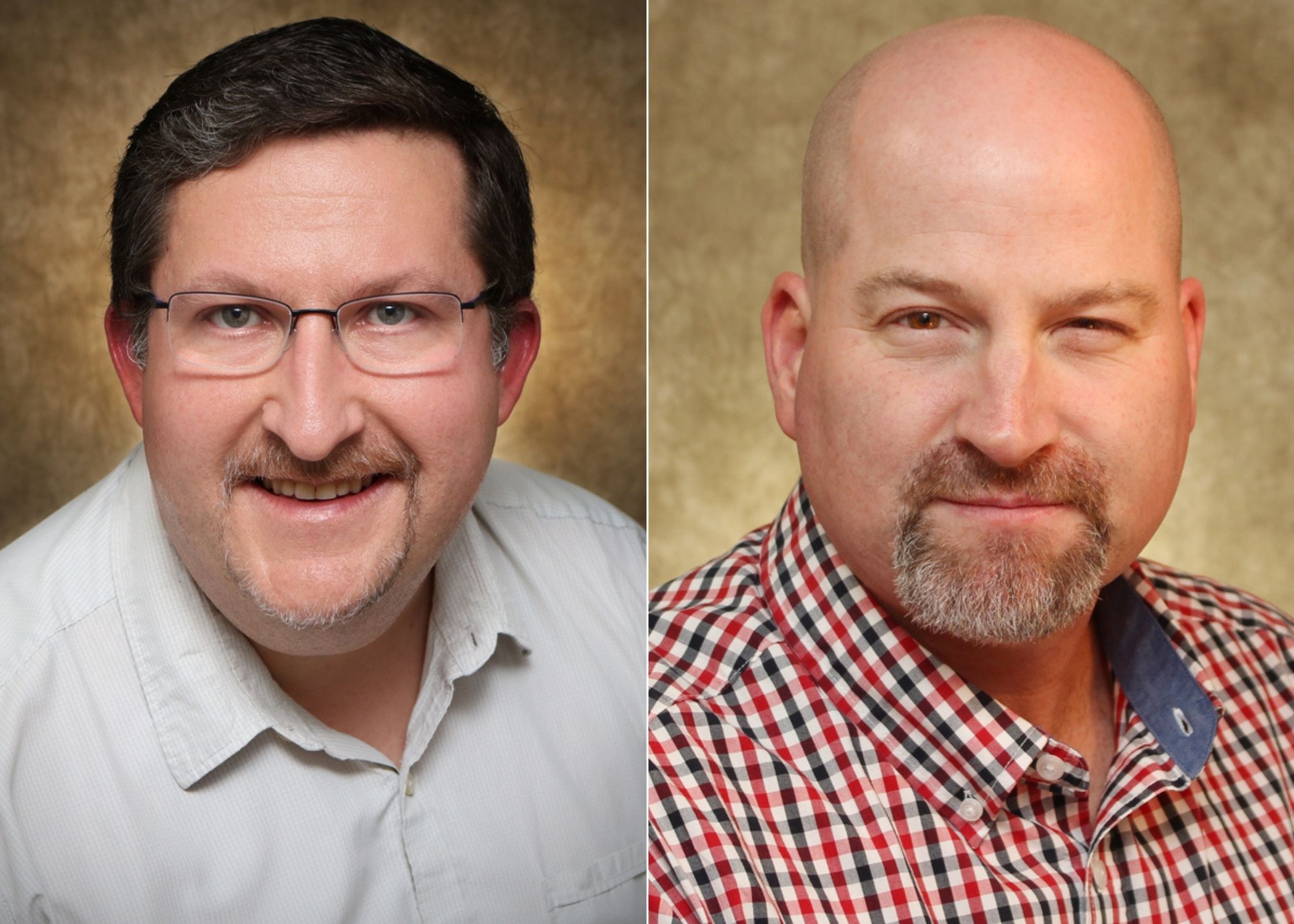 Dr. Eric Schmaltz (left) Dr. Aaron Mason (right)
---
Dr. Aaron Mason and Dr. Eric Schmaltz, Social Sciences department faculty members at Northwestern Oklahoma State University, were recently interviewed to discuss the Electoral College for the Oklahoma Humanities Council podcast program series.
Mason, professor of political science, and Schmaltz, departmental chair of social sciences and professor of history, were guest speakers on the podcast program series "BrainBox: A Podcast for Your Noggin" hosted by Chris Carroll of the OHC in Oklahoma City. They discussed the issue of "Why do we have the Electoral College?" prior to the 2020 presidential election.
"Following COVID protocols, Dr. Mason and I were able to meet in person at an Oklahoma City studio to record the program," Schmaltz said. "The podcast producer was wonderful to work with, as was OHC series host Chris Carroll. Dr. Mason and I were among the first guests to be able to record a new program in the studio since the mid-March shutdowns."
The OHC BrainBox podcast program uses the humanities to discuss issues affecting American society and culture. The podcast features interviews with some of Oklahoma's most interesting and knowledgeable humanities scholars to explore how history, literature, ethics, philosophy, and other humanities fields inform a person's understanding of current events and the human experience.
"The opportunity to participate in the podcast was very gratifying," Mason said. "It was enjoyable on both a professional and personal level. I look forward to future endeavors with the OHC."
The podcast was recorded in mid-September in Oklahoma City and is posted for the public on the Oklahoma Humanities Council website www.okhumanities.org/page/brainbox-s3-ep13. Back in April 2019, Mason and Schmaltz also discussed the issue of "The Power of the American Presidency" for the program series, available at www.okhumanities.org/page/brainbox-s2-ep4.
All episodes of the OHC BrainBox podcast can also be found on the digital audio streaming service, Spotify.
Mason and Schmaltz said they are considering doing a future OHC podcast episode on the cultural and social history of American sports and leisure.
"Participation in podcasts remains a relatively novel concept for us, but it's also quite exciting and intellectually stimulating," Schmaltz said. "More recently, I have also done a podcast interview via Zoom with a researcher in Boston for a program on immigration topics."
-NW-
CONTACT FOR RELEASE
Erin Davis, University Relations Specialist
eedavis@nwosu.edu, 580-327-8480