Northwestern English professor has article republished on culture blog
January 30, 2019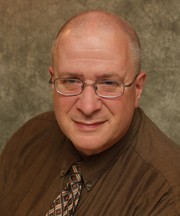 Dr. Richmond Adams
Dr. Richmond Adams, assistant professor of English at Northwestern Oklahoma State University, recently had an article republished by the cultural blog "Scraps from the Loft."
The article is titled "Faithfulness: A 'Vision' of Stanley Kubrick's Last Three Films." Adams first explored these three films – "The Shining" (1980), "Full Metal Jacket" (1987) and "Eyes Wide Shut" (1999) – in a graduate class at Southern Illinois University. The article addresses how these films are linked through notions of "faithfulness" and, in Kubrick's view, how that term is explored within the post-1945 experience of the Western world.
The editor of the blog indicated the article, which was originally published in 2006 in the now-defunct website "The Film Journal," was found by chance by going back to the archive of one of Stanley Kubrick's Newsgroups. The editor indicated that Adams' article was "a great piece" and "was surprised that it didn't have the visibility it deserves." Read Adams' article by visiting https://scrapsfromtheloft.com/2018/11/14/faithfulness-a-vision-of-stanley-kubricks-last-three-films-richmond-adams/.
"Such recognition, I believe, brings positive attention to our university and will assist in our recruiting as well as retention efforts," Adams said.
Adams joined the faculty at Northwestern in 2014. He has a doctorate with an emphasis in late 19th century American literature from Southern Illinois University - Carbondale.
For more information about Northwestern's department of English, Foreign Language, and Humanities contact Dr. Kathryn Lane, department chair and associate professor of English, at (580)327-8470, kelane@nwosu.edu or Adams at (580) 327-8428, rbadams@nwosu.edu.
-NW-
CONTACT FOR RELEASE
Erin Davis University Relations Specialist
eedavis@nwosu.edu, 580-327-8480