Northwestern English Faculty Members Publish Book Collection on Popular Culture
May 1, 2020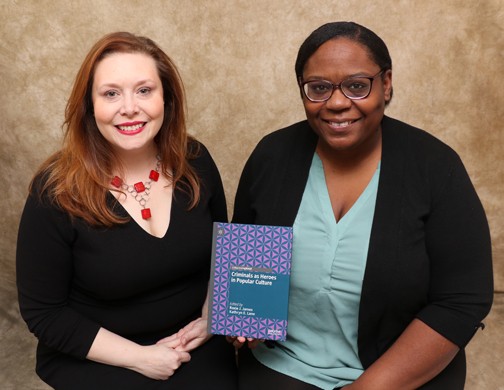 Northwestern Oklahoma State University professors Dr. Kathryn Lane (left) and Dr. Roxie James with their recently published book "Criminals as Heroes in Popular Culture."
Dr. Roxie James, assistant professor of English, and Dr. Kathryn Lane, associate professor of English and chair of the English, Foreign Language and Humanities Department at Northwestern Oklahoma State University, have published "Criminals as Heroes in Popular Culture" through Palgrave Macmillan, a world-renowned publishing company.
James has a master's degree in English Literature from Northwestern State University. Lane has a master's degree in Creative Writing from the University of Louisiana at Lafayette. Both James and Lane have doctorates in English Literature with a specialization in Romantic and Victorian Literature from the University of Louisiana at Lafayette.
The collection is nine chapters with contributions from all over the world. Topics vary widely from historical perspectives to timely interpretations. Lane explained the book examines why society is fascinated by criminals and often recasts them in the role of hero. The collection of essays covers female pirates, Chinese westerns, modern video games and even Martha Stewart.
Lane said she became inspired to write this book when she noticed a trend in television and film advertisements while on a fall break and reached out to the editor of "Dialogue", a journal of popular culture, about guest editing a special edition on that trend.
"When we put out the call for papers, the response was so massive that we realized we either needed to have three special editions or we needed to do more," Lane said. "The book collection grew from that. The special edition of 'Dialogue' came out the second day of the fall semester (2019), and we're excited that the book collection has been released before the school year ends."
Through the process of writing the book, Lane said she learned a million things from scholars around the world.
"That's the fantastic thing about putting together a book collection," Lane said. "This is my second, and I have to say reading other people's research is always fascinating."
She is the editor of the 2018 book collection "Age of the Geek: Depictions of Nerds and Geeks in Popular Media."
James said the best part of writing this book was learning all of the background information regarding heroes, villains and everyone in between.
"We looked at the Martha Stewart/Snoop Dogg friendship," James said. "Reading about the two of them is always fascinating."
The book is available for purchase on Amazon and https://www.palgrave.com/us/book/9783030395841.
For more information on the book, contact James at (580) 327-8474 or rjjames@nwosu.edu or Lane at (580) 327-8470 or kelane@nwosu.edu.
-NW-