Northwestern choirs to perform 'Haunted Harmonies' October 30
October 22, 2018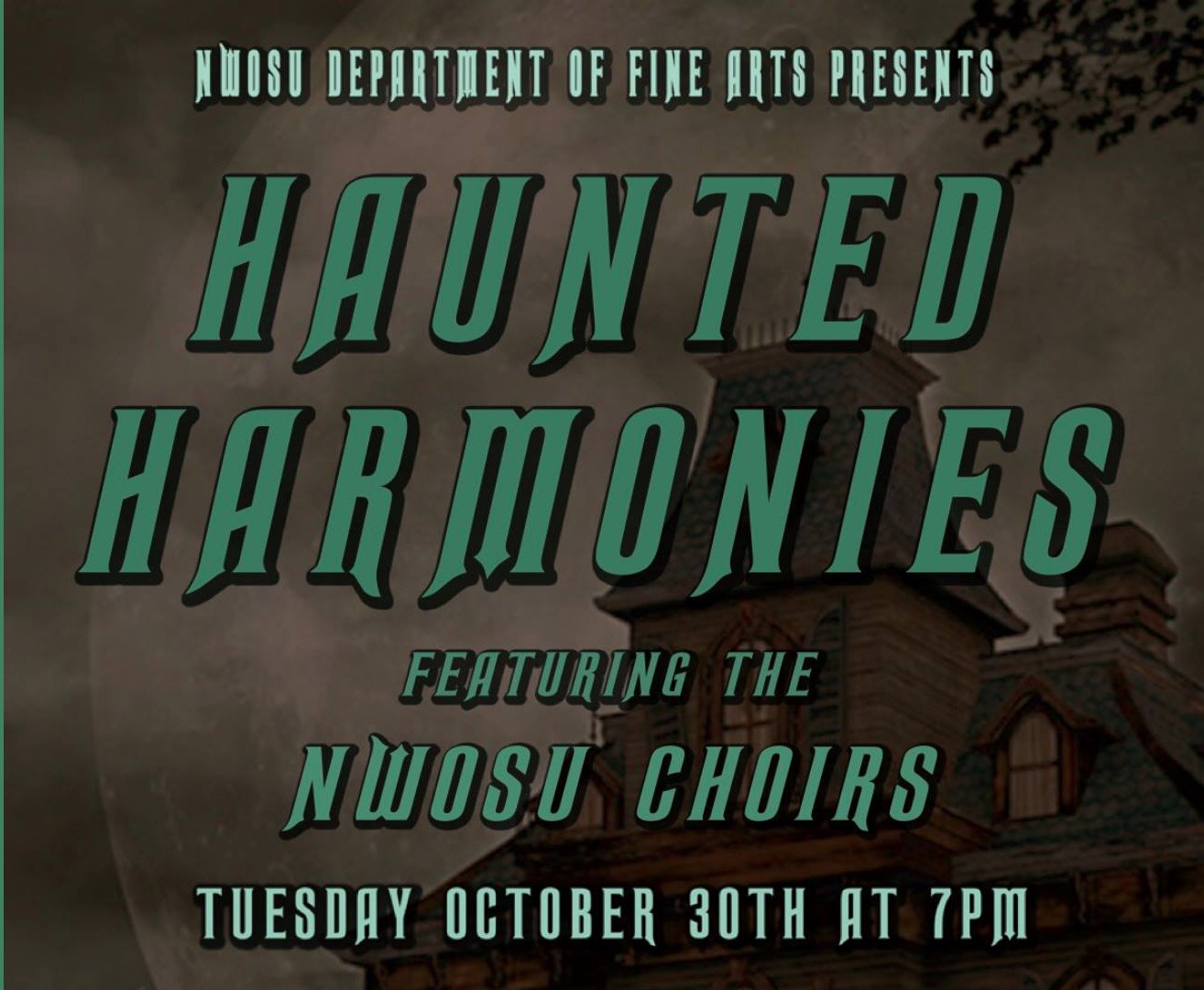 From Classical, to Romantic, to Contemporary composers, this spook-filled concert will appeal to all audiences! Haunted Harmonies Oct. 30, 7 p.m., First Baptist Church of Alva.
Northwestern Oklahoma State University Department of Fine Arts will present "Haunted Harmonies," featuring the Northwestern Choirs, Tuesday, Oct. 30, at 7 p.m. at the First Baptist Church. Admission is free, and the audience is encouraged to dress in Halloween costumes.
Approximately 50 choir students have been preparing for this concert since the beginning of the semester. Karsten Longhurst, director of choral studies, will be directing the performance accompanied by Meichen Hou, adjunct instructor of music.
Longhurst, who said he has always wanted to do a Halloween-themed concert, said that "Haunted Harmonies" will consist of approximately 16 Halloween pieces.
"There are so many songs that talk about things that are haunting and things that bring fear like death, ghouls, ghosts and the supernatural powers like werewolves and haunted houses," Longhurst said. "There's also a lot of fun pieces that are around that theme.
"I always thought doing something like this can be a little bit kitsch, but at a collegiate level there's so much great music that has to deal with the Halloween kinds of things. The Halloween holiday goes way back. In the Mexican tradition we have the 'Day of the Dead,' and I thought it would be cool to kind of intertwine death and ghosts and things like that because there is so much great music written about things like that, and there's so much great poetry set to music."
Longhurst said the concert will feature the Northwestern Concert Choir, University Chorale and University Singers. The choirs will include a mixture of male and female singers; however, there will be a couple of pieces with male-only voices and a couple of pieces with female-only voices.
"I think there are some songs people will recognize," Longhurst said, "We're singing 'Ghost Rider's in the Sky,' and we're closing off with the 'Nightmare Before Christmas Medley.' We're singing a piece that the text is from Shakespeare's Macbeth, 'Double Double Toil and Trouble,' -- most people know that famous line from Macbeth."
Longhurst said he encourages people to come out because the choirs are good, the music is great from its text to its composers, and it's fun.
For more information contact Longhurst at (580) 327-8692 or krlonghurst@nwosu.edu.
-NW-