Northwestern business students compete at Love's Entrepreneur's Cup
April 25, 2019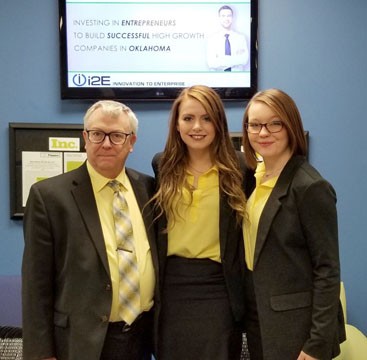 Dr. David Hawkins served as the adviser for Callie Campbell (center) and Crystal Keeler (right) as they competed at the Love's Entrepreneur's Cup.
Northwestern Oklahoma State University business students Callie Campbell and Crystal Keeler won the High Growth Interview award in the Positive Energy and Environmental category sponsored by OG&E at the Love's Entrepreneur's Cup held recently in Oklahoma City.
As a team, they received $1,000 for their concept, SeePay, which is a home electrical monitoring device that measures and displays the amount of energy consumed with the cost of the electrical usage in real-time. Featuring paying capabilities from the wall-mounted device in the home, SeePay allows consumers to save money by seeing which areas of their home electrical usage is most costly.
"Crystal and Callie worked very hard and put in a lot of hours on their project," said Dr. David Hawkins, associate professor of business and chair of the Division of Business. "They scored in the top eight in their division across the state of Oklahoma, which is a great success. They represented Northwestern and the Division of Business very well, and I was proud to be their adviser. I look forward to working on next year's project."
The Love's Entrepreneur's Cup, formerly known as the Governor's Cup, is a statewide collegiate business plan competition now in its 15th year. Hundreds of college and university students throughout Oklahoma participate in the competition. The Love's Cup gives teams experience with four separate judging panels of professionals from diverse industries and professions.
Every team that enters a business plan has a sit-down interview with experts from the industry represented by their business plan. The second round of judging is the written business plans, which feed into the two-day round of business plan presentations. Six finalists from each of the three divisions — high growth graduate, high growth undergraduate and small business — then present to determine the first-, second- and third-place winners in each division.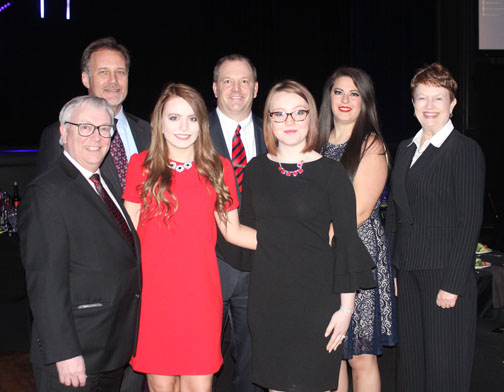 Northwestern Oklahoma State University was well represented at the Love's Entrepreneur's Cup award banquet. Back row (left to right) Doug Van Meter, alumnus; Dr. Bo Hannaford, vice president for academic affairs; Brittney Buckendorf, accounting junior; Dr. Janet Cunningham, university president. Front row (left to right) Dr. David Hawkins, associate professor of business and chair of the Division of Business; Callie Campbell, business administration senior; and Crystal Keeler, accounting freshman.
"The recent experience at the Love's Entrepreneur's Cup has taught me so much about what it means and truly takes to be an entrepreneur," said Crystal Keeler, accounting freshman from Alva. "I learned to work with other types of personalities, and to work with group members to establish a consensus within our group. I learned to take myself out of the decision-making process and to focus on the success of the group as a whole."
In addition to their team success, Campbell, a business administration senior from Alva, received the $5,000 undergraduate Paulsen Award Scholarship. Three $5,000 Paulsen Award scholarships were awarded this year to an undergraduate, graduate and small business participant.
"From competing in the Love's Entrepreneur's Cup, I have learned that entrepreneurship is about being confident enough to take a leap of faith, but humble enough to admit what you don't know," Campbell said. "Our presentation went very well. The judges felt like we were really on to something, but we needed to do a little more research to be able to compete with ideas that were a year into the making. I enjoyed getting to network with other successful upcoming business students as well as established professionals.
"The Love's Entrepreneur's Cup allows students a real world opportunity to have a breakthrough moment into their future careers. The intensity of the competition mirrors an extremely competitive work force. I think that kind of environment is something that all business students should experience sometime in their college career."
For more information about Northwestern's participation in this competition or the Division of Business contact Hawkins at (580) 327-8440 or wdhawkins@nwosu.edu.
-NW-
CONTACT FOR RELEASE
Erin Davis, University Relations Specialist
eedavis@nwosu.edu 580-327-8480