Northwestern Awards Prizes, Scholarships During Family Day Activities
September 20, 2023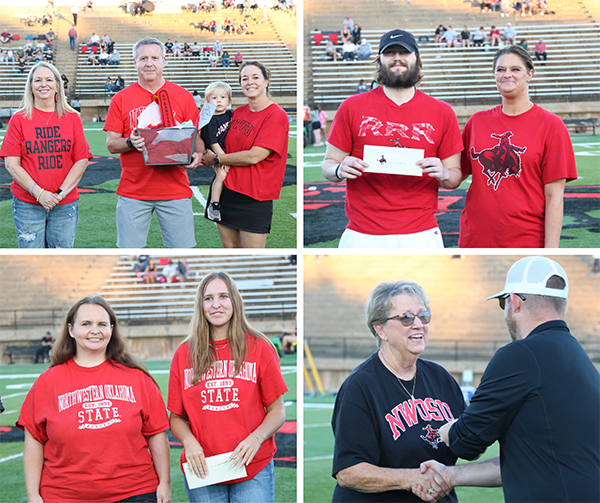 Special awards were presented at halftime of the Northwestern Oklahoma State University football game Saturday. Traveling the furthest distance to attend Family Day is the Jeff Judkins Family from Texarkana, Texas. Winning the Shopping for Tuition scholarships are Jaden Bloyd, $200 winner; Morgan Durbin, $300 winner; and Andrew Gribble, $500 winner. Making the presentations to the winners are Calleb Mosburg (fourth from left) and Ethan Sacket (far right).
The Jeff Judkins Family from Texarkana, Texas, traveled 480 miles to attend the Northwestern Oklahoma State University Family Day events this past weekend and received the award for traveling the furthest distance during halftime ceremonies at Saturday's Ranger football game. They are the family of Northwestern freshman Austin Judkins, who is majoring in psychology.
Students and their families were able to "Shop for Tuition" all week by visiting several Alva merchants to register for a $500, $300 or $200 tuition giveaway from the Northwestern Foundation.
Winners of those tuition scholarships recognized at halftime of the football game included Andrew Gribble, Woodward freshman majoring in math, who won the $500 tuition giveaway; Morgan Durbin, Medicine Lodge, Kansas, freshman majoring in biology, the winner of the $300 tuition prize; and Jaden Bloyd, Alva senior majoring in business administration/marketing, the $200 tuition prize winner.
Nearly 60 families registered in the Student Center Saturday to receive tickets that would allow them free entry into the Ranger football game that day. Families were also able to shop in the Northwestern Bookstore and buy products in the Ranger Market.
The Northwestern Foundation and Alumni Association staff also played host to a free lunch for Northwestern alumni and their children who currently are attending the university.
John Allen, director of alumni relations, said 11 alumni family groups attended the luncheon in the Ranger Room.
Rounding out the day's events was a free tailgate meal at Ranger Field before the kickoff of the football game sponsored by Speedy's T's and More.
For more information about Family Day or Northwestern, please contact Mosburg at cnmosburg@nwosu.edu or (580) 327-8415.
-NW-