Northwestern Artist-in-Residence to have Workshop Dec. 3
December 2, 2021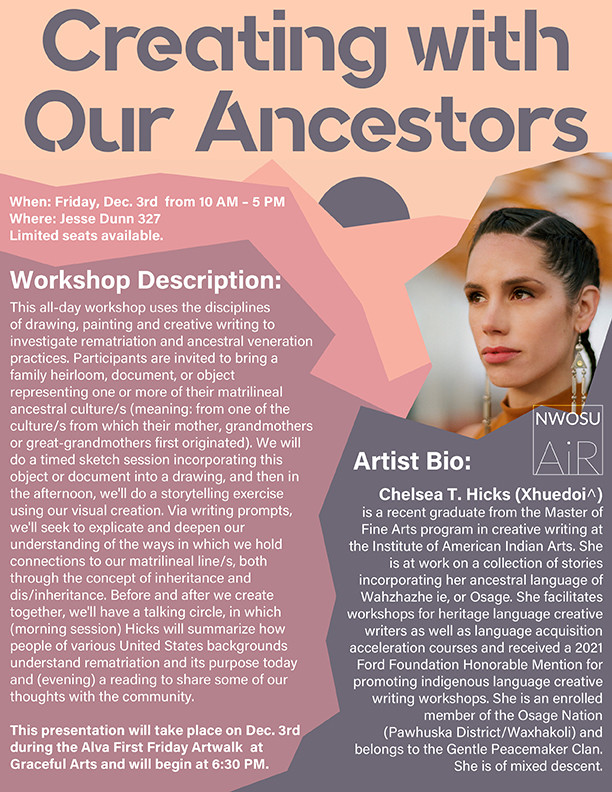 Chelsea T. Hicks is the November artist-in-residence for the Northwestern visual arts program.
Chelsea T. Hicks, the November artist-in-residence in the Northwestern Oklahoma State University visual arts program, will present a workshop Friday, Dec. 3, from 10 a.m. to 5 p.m. in Jesse Dunn Annex 327 titled "Creating with Our Ancestors." Limited seats are available.
A presentation and discussion from the day's events also will take place at 6:30 p.m. at Graceful Arts in downtown Alva during the First Friday Artwalk.
The all-day workshop will incorporate the disciplines of drawing, painting and creative writing to investigate rematriation and ancestral veneration practices. All participants are invited and encouraged to bring a family heirloom, documents or an object representing one or more of their matrilineal ancestral cultures, meaning from where their mother, grandmother or great-grandmothers first originated.
Kyle Larson, associate professor art, said participants will do a timed sketch session incorporating their object or document into a drawing, and then in the afternoon, there will be a storytelling exercise using the visual creation.
"Via writing prompts, participants will seek to explicate and deepen our understanding of the ways in which we hold connections to our matrilineal line/s, both through the concept of inheritance and dis/inheritance," Larson said.
During the morning segment of this workshop in JDA, Hicks will summarize her thoughts on how people of various United States backgrounds understand rematriation and its purpose today.
Hicks, from the Osage, Pawhuska District, is an incoming Tulsa Artist Fellow and a Native Arts & Culture Foundation 2021 LIFT Awardee. She has been published in several notable publications and was a 2020 finalist for the Eliza So Fellowship for Native American women writers.
Also in 2020, she was a visiting artist at the School of Art Institute of Chicago after earning a master's in English from UC Davis and a Master of Fine Arts from the Institute of American Indian Arts.
Her advocacy work has included recruiting with the Virginia Indian Pre-College Outreach Initiative (VIP-COI), Northern and Southern California Osage diaspora groups, and heritage language creative writing and revitalization workshops. She authored poetry for the sound art collection Onomatopoeias For Wrangell-St. Elias, funded by the Double Hoo Grant at the University of Virginia, where she was awarded the Peter & Phyllis Pruden scholarship for excellence in the English major as well as the University Achievement Award (2008-2012).
The Ford Foundation awarded her a 2021 honorable mention for the promotion of Indigenous-language creative writing.
Hicks is planning an Indigenous Language Creative Writing Conference for November 2022 in Tulsa, funded by the MId-America Art Alliance.
For more information on the Northwestern artist-in-residence program, visit nwosuair.com, and to register for the workshop, contact Larson at krlarson@nwosu.edu or call (580) 327-8108. Additional information about Northwestern's visual arts program may be found at https://www.nwosu.edu/school-of-arts-and-sciences/fine-arts/visual-arts.
-NW-