Northwestern artist-in-residence to have talk, workshop, show artwork
October 12, 2021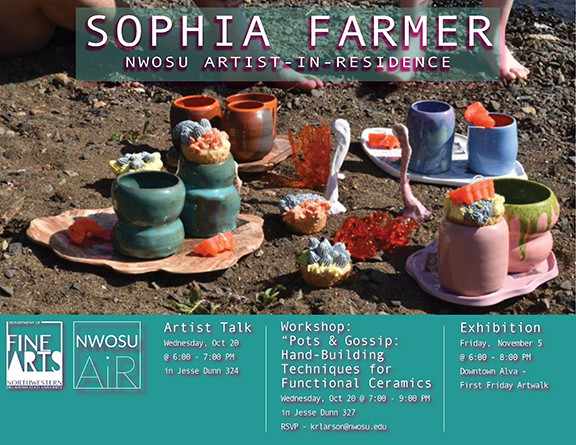 Sophia Farmer is the current artist-in-residence at Northwestern.
Sophia Farmer, the October artist-in-residence in the Northwestern Oklahoma State University visual arts program, will present an artist talk and workshop Wednesday, Oct. 20, from 6-9 p.m. in Jesse Dunn Annex 324/327.
Farmer will discuss their work and influences at 6 p.m. with a workshop following at 7 p.m. titled "Pots & Gossip: Hand-Building Techniques for Functional Ceramics," where students will engage in hand-building clay techniques and practice building pinch pots, slab mugs or coil pots. All materials will be provided. Masks are required for this talk and workshop.
The workshop spots are limited to 15 participants with priority given to visual arts students.
Farmer is a ceramist, watercolor illustrator, poet and baker from San Diego, California. They graduated from Reed College in Portland, Oregon, receiving their Bachelor of Arts in studio art with a focus in ceramics.
"I enjoy hand-building, wheel-throwing, and I love making functional ceramics because of the connections it brings me with people," Farmer said. "I like working in an array of mediums, such as performance, but especially with food and baked goods. Most of my work aims to connect people to their senses through colors, textures and everyday objects."
They said their work often involves highly sensory experiences such as eating, performing and being in the ocean, as hopeful attempts at re-grounding dissociative episodes centered in eroticism and queerness.
Farmer is developing a body of work in Jesse Dunn Annex 323 and will present an exhibition of the work they created during their time at Northwestern on Friday, Nov. 5, from 6-8 p.m. during the First Friday Art Walk in downtown Alva.
For more information on the Northwestern Artist-in-Residence Program, visit nwosuair.com, and to register for the workshop, contact Kyle Larson, associate professor of art, at krlarson@nwosu.edu or call (580) 327-8108.
-NW-