Northwestern art show winners announced, winning pieces on display April 6 at Runnymede
April 2, 2018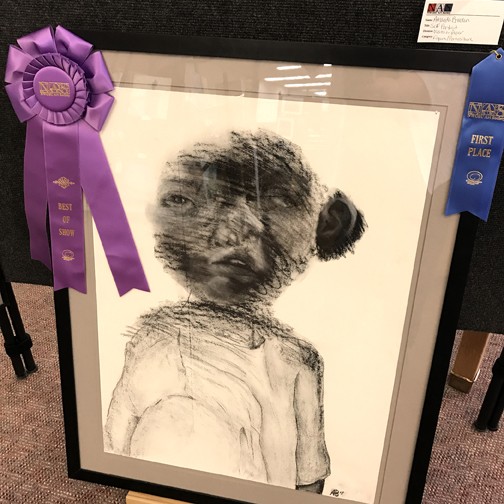 "Self Portrait" by Amanda Breeden was named the Best of Show on the student side of the contest during the 15th annual Northwestern Art Society Art Show.
More than 120 art pieces that won prizes during the 15th annual Northwestern Oklahoma State University Art Society (NAS) Art Show will be on display for a Winners Only Show in the Runnymede Hotel Friday, April 6, from 6-8 p.m. for the First Friday Artwalk event that is free and open to the public.
On display will be 76 pieces created by 34 different Northwestern students and 48 pieces by 12 current and retired Northwestern employees and alumni.
The Best of Show Award is the top prize for the student and non-student entries. This year, a pencil drawing and a wooden sculpture were judged to be the best.
In the student contest biology major Amanda Breeden, Cherokee freshman, earned the top award for "Self Portrait," which was entered in the Works on Paper area for People/Portraiture. Breeden earned $75 and a purple ribbon for her winning artwork.
In the non-student area Northwestern maintenance employee Glenn Gagnon's sculpture titled "Plowing Field" earned the purple ribbon. This piece was entered in the Artisan Crafts area.
"I'm always fascinated by the talent we're able to showcase during our art show," Angelia Case, NAS sponsor, said. "I must admit that I do worry every year if we're going to have a show based on how many entries we have two days before the entry deadline. It's just amazing how many entries come in on the deadline day, and we are thankful for them."
Case noted that they will begin discussion on next year's show soon and encourage all Northwestern students, employees, retired employees and alumni to start working now and this summer on entries for next year.
During the show on campus, those who viewed the art in the J.W. Martin Library were able to vote for their favorite piece to help determine a People's Choice winner. This winner will be announced at the Winner's Show April 6.
Students whose art won prizes at the campus show will be able to pick up their prize money at the Winners' Show.
A list showing all winners from the campus show is available at www.nwosu.edu/art/nas-art-show.
Artwork from the Winners' Show at the Runnymede may be picked up at the end of that show at 8 p.m. or from Fine Arts 211 on Monday, April 9, by 5:30 p.m. Pieces that did not win and have not been picked up also are available in Fine Arts 211.
For additional information about the art show or the Art Society, visit the NAS website at www.nwosu.edu/art, join the club's Facebook group or fan page or contact Case at arcase@nwosu.edu or (580) 327-8577. For more information on classes within the Visual Arts program, contact Kyle Larson, assistant professor of art, at (580) 327-8108 or krlarson@nwosu.edu.
-NW-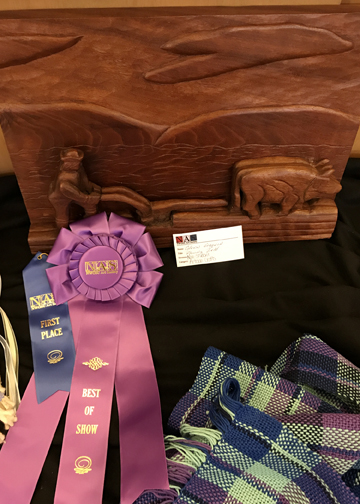 In the non-student area of the 15th annual Northwestern Art Society Art Show
Northwestern maintenance employee Glenn Gagnon's sculpture titled
"Plowing Field" earned Best of Show honors and a purple ribbon.
CONTACT FOR RELEASE
Valarie Case, University Relations Specialist
vcase@nwosu.edu; (580) 327-8486