Northwestern announces 2017 homecoming theme, parade marshal
August 7, 2017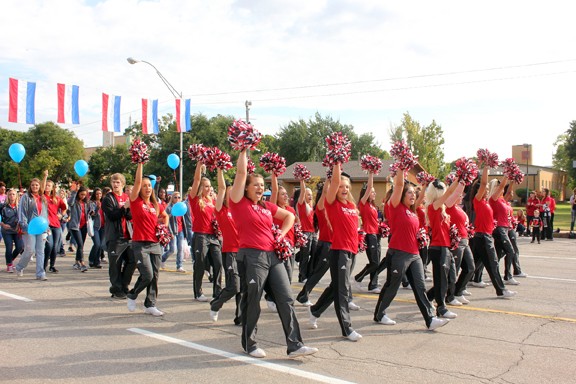 Northwestern had a great turnout for last year's homecoming parade celebration and homecoming events. Ranger cheer (pictured here) took its turn around the square to energize the crowd for the upcoming game.
Events have been set for Northwestern Oklahoma State University's annual homecoming celebration, and the organizing committee looks forward to seeing many familiar, and some new, faces in Alva.
The Northwestern Foundation and Alumni Association helped Northwestern's homecoming committee narrow down a theme that reflected genuine Ranger pride for current students, faculty, employees and alumni. This year's theme – "Come Back, Give Back, Continue the Legacy…" – emphasizes Northwestern's belief that alumni play a critical role as partners in supporting current and future students achieve their long-term educational and professional goals.
"Northwestern wants you here. Come back and give back your time to play your part in this year's Homecoming event at Northwestern," Dr. David Pecha, general chairman, said. "Whether you graduated last year, or 50 years ago, we hope you will return to campus and share in the legacy you helped build. All alumni families, community members and friends are invited to join the celebration."
Student and community groups are encouraged to create floats that incorporate this theme for Homecoming, which is set for Sept. 28-30.
Leading the parade on Saturday, Sept. 30, at 10 a.m. in downtown Alva will be the parade marshal Dr. Peggy Wisdom, a 1968 graduate of Northwestern. Wisdom has developed a distinguished career in medicine and teaching. She currently is a professor of neurology at the University of Oklahoma Health Sciences Center as well as chief of neurology and rehabilitation at the Oklahoma City Veterans' Affairs Medical Center. Her commitment to education at Northwestern led to the establishment of the Wisdom Family Foundation to support education in the arts, agriculture and health/medicine.
Homecoming button sales and design will be announced at a later date.
To keep up-to-date with Homecoming events, look for the homecoming link on our homepage at www.nwosu.edu. The web page will be updated as events are finalized.
-NW-