Northwestern Alumnus Scheduled as Spring 2021 Commencement Speaker
April 30, 2021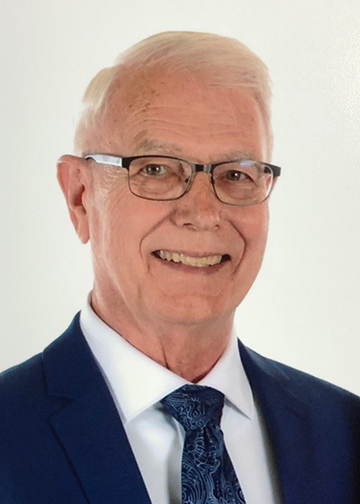 Dr. Joe Highfill of Norman, a 1966 graduate of Northwestern Oklahoma State University, will deliver the commencement address at his alma mater during the University's commencement ceremony on Saturday, May 8, at 10:30 a.m. at Ranger Field.
The stage will face south for this ceremony to allow for social distanced seating on both the home and visitor sides. Guests in the stands will be encouraged to wear a face covering.
The parking tiers on the south end will also be available for people to park and watch the ceremony from their vehicle. The tier parking is first-come-first serve availability unless handicap parking is needed. Handicap parking will be available on the first tier.
In case of inclement weather, the spring commencement exercises will be held in Percefull Fieldhouse. If the event is moved indoors, the universities' COVID protocols will be observed.
A native of Alva, Highfill graduated from Northwestern State College with a bachelor's degree in natural science, and later earned a master's degree in natural science and a Ph.D. in phycology with a minor emphasis in human anatomy, both at The University of Oklahoma. While at Northwestern, Highfill was a member of the Ranger choir, band and other organizations.
"I have great memories of all of the activities in the organizations to which I belonged at Northwestern," Highfill said. "I loved the labs and field trips associated with my natural science major. And, the memories of all my instructors at Northwestern are all pleasant, especially those of my adviser, Dr. Anna B. Fisher."
He also remembers running a complicated lighting scheme for a theatre production in his undergraduate days.
"I don't think I got through one of the rehearsals without making some lighting error," he said. "On the night of the production, I made it through the entire performance without a lighting error and was celebrating the error-free performance when someone came backstage and said, Mr. Pennington (the director of the play) was wondering if I planned on turning the house lights on so the audience could go home."
Highfill taught eighth-grade science at Curtis Junior High in Wichita, Kansas, for a year and then taught high school biology at Woodward High School. Following those two years, he entered the U.S. Army as a 2nd Lieutenant. After two and a half years in the army as Assistant Registrar and Assistant Patient Administrator at U.S. Army Hospital Fort Carson, Colorado, and promotion to Captain, he retired from the military and returned to Woodward, where for 18 years he taught a number of different science classes, coached tennis and also earned his master's degree during summer sessions.
Following his second teaching stint in Woodward, Highfill returned to OU as a full-time student studying human anatomy at the OU Health Sciences Center in Oklahoma City. He then moved to the main campus in Norman where he completed his doctorate and was soon hired to become faculty at the university where he taught biology for teachers, introduction to botany and economic botany in the botany - microbiology department. He then moved to the zoology department where he taught human cadaver anatomy, comparative vertebrate anatomy, introduction to zoology, protozoology and the senior capstone course.
After retirement from OU, Highfill entered the nursing program at Oklahoma City Community College where he graduated with an associate degree in nursing. The following five years he worked as an oncology nurse in the Norman Regional Hospital Oncology department.
The University of Oklahoma asked him to return, so he spent an additional 12 years there teaching comparative vertebrate anatomy. During the first two years of his return to teaching at OU, he also worked part-time as a hospice nurse in the Norman area.
After a 40-year career that started in 1966 and ended in 2015, he now enjoys reading, working in the yard and traveling the world on Disney cruises.
A live stream link for the commencement exercises can be found at www.YouTube.com/NWOSURangers.
-NW-