Northwestern Alumnus Scheduled as Fall 2021 Commencement Speaker
November 29, 2021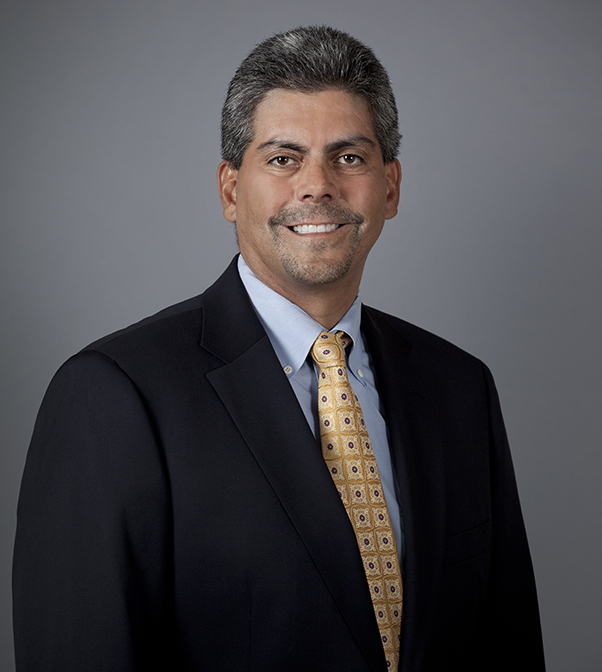 Emulate Therapeutics, Inc. Chief Executive Officer (CEO) and chairman Chris Rivera, a 1983 graduate of Northwestern Oklahoma State University, will deliver the commencement address at his alma mater during the University's fall commencement ceremony on Sunday, Dec. 5, at 3:30 p.m. in Percefull Fieldhouse.
A native of Albuquerque, New Mexico, he graduated from Northwestern with a bachelor's degree in business administration, and later earned a master's degree at the University of Oklahoma Health Sciences Center. He also studied marketing and management at the Albers Graduate School of Business and Economics at Seattle University. While at Northwestern, Rivera played on the men's basketball team.
"During my time at Northwestern I was able to make the transition from focusing on athletics to focusing on my education," Rivera said. "My head coach Dan Hays taught me a lot about leadership."
In addition to playing basketball for the Rangers (1979-1983), he played intramurals and enjoyed the community, campus size and people.
"My experience at Northwestern was a pivotal time in my life," Rivera said. "When I enrolled, my intent was to become a Certified Public Accountant. I was not unlike many college freshmen and was unsure of what to major in after my first semester. My adviser, Mr. John Barton [a professor of speech and dean at Northwestern at the time] was the person who encouraged me to take his audiology class. He knew that I liked math and science, and it was the anatomy and physiology that I fell in love with.
"I ended up getting my master's degree in audiology from OU, which was a critical factor in my career in the life science and biotechnology industry. Mr. Barton and this decision was probably the biggest influence in my career and a direct result in what I have accomplished professionally."
Rivera has spent more than 30 years in numerous leadership roles in the biotechnology industry, including chairman, CEO and president of EMulate Therapeutics, Inc. Rivera is also the chairman, president and founder of Hapbee Technologies, Inc. (TSXV:HAPB), a publicly traded consumer wearable technology company.
Prior to EMulate, Rivera was the founder and CEO of Hyperion Therapeutics, which was acquired by Horizon Pharma in 2015; senior vice president (SVP) at Tercica, where he led the cross-licensing transaction between Tercica and Ipsen, and SVP at Genzyme Therapeutics, where he helped build and ran Genzyme's US renal Commercial Operations, and helped launch Genzyme's renal division globally. Prior to Genzyme, he helped build Cephalon and Centocor's commercial infrastructures.
From 2009 – 2015, Rivera was the President and CEO of Life Science Washington (formerly Washington Biotechnology & Biomedical Association - WBBA), where he was responsible for building the biotechnology industry in Washington state. While at the WBBA, he oversaw one of Washington's largest and fastest-growing economic industries, including mentoring more than 400 life science start-up companies, and co-founding WINGS – Washington's Medical Technology angel network.
He has also been recognized as a state and national leader through his appointments as co-chair for the (WA state) governor's life science and global health advisory committee, (WA state) Governor's Higher Education Task Force, the Washington Global Health Funding Commission, and chairman for the National Council of State Bioscience Associations.
Rivera resides in the Seattle, Washington, area and has been married for 32 years. He has two children, who also live in the Seattle area.
A livestream link for the commencement exercises can be found at www.YouTube.com/NWOSURangers.
-NW-
CONTACT FOR RELEASE
Erin Davis, University Relations Specialist
eedavis@nwosu.edu; 580-327-8480