Northwestern 2022 Homecoming was an All-Around Success
November 10, 2022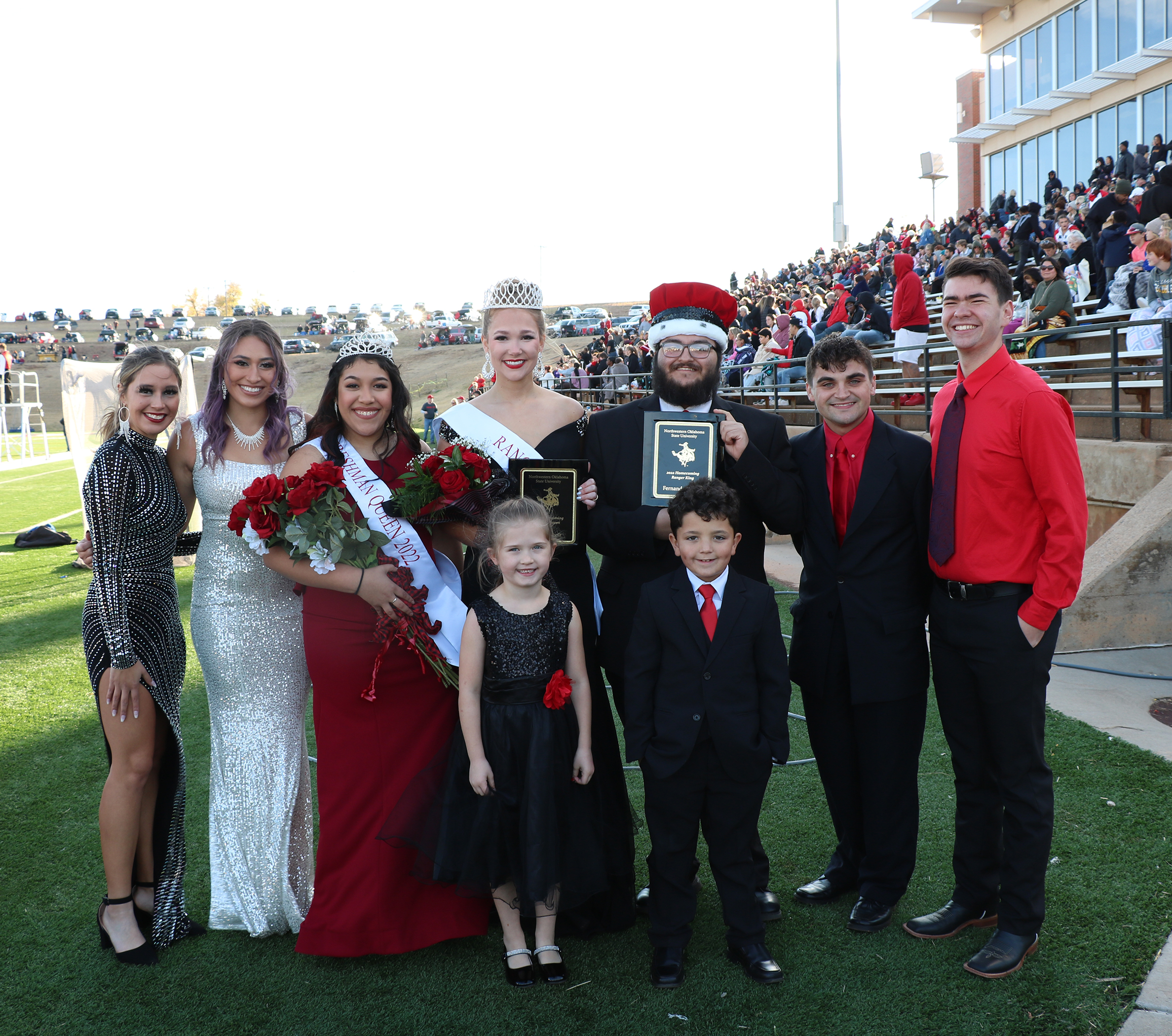 Fernando Nunez and Carli Seabolt were crowned Ranger King and Queen during Northwestern's Homecoming halftime event. Ranger Royalty court included (front left to right) flower girl Reese Mosburg and crown bearer Beckham Lauderdale; (back left to right) Queen finalists Jerika Coon and Jaeden Coon, Freshman Queen Maria Sosa, Ranger Queen Carli Seabolt, Ranger King Fernando Nunez, King finalists Rosco Setzer and Tyler Blankenship.
---
Hundreds gathered around the downtown square on Saturday, Nov. 5, for Northwestern Oklahoma State University's annual Homecoming parade, then headed to Ranger Field to watch the massed bands perform, learn who the Ranger Royalty and homecoming button winners would be, and watch a Ranger football game, all to celebrate Northwestern's homecoming. The theme was "Together We Ride." People came from all over to be in Alva for this event.
Festivities on Saturday began with the annual Ranger Run. McKinsey Bier was the 1-Mile Fun Run winner with a time of 11:23; Patrick Allen was the male 5K winner with a time of 20:23, and Avery Case was the female 5K winner with a time of 24:58.
Leading the parade on Saturday was parade marshal Dr. Mike Knedler, who retired from Northwestern in June 2015 after 32 years as a Ranger. Knedler also served as Dean of Humanities and Social Sciences, and before leaving Northwestern, he led the School of Arts and Sciences.
After the conclusion of the parade, the winners of the bands were announced.
First place for on-campus floats was the Student Government Association senators, second place went to the Delta Zeta sorority, and third place went to SGA: Ranger Royalty.
In the off-campus, non-profit float category first place went to the Cherokee Strip Museum.
For the off-campus, commercial business float category first place went to Beadles Nursing Home.
The President's Award for the best overall float went to Beadles Nursing Home. The Northwestern Alumni Association Ranger Spirit Award for the float depicting exceptional Ranger spirit went to the Cherokee Strip Museum.
Five bands participated in the parade. Bands that placed include the following:
Middle School Marching Competition – first place, Pioneer-Pleasant Vale
Class 2A High School Marching Competition – first place, Pioneer-Pleasant Vale; second, Okeene; third, Beaver
Class 3A High School Marching Competition – first place, Watonga
Overall Outstanding Drumline – Pioneer-Pleasant Vale High School
Overall Outstanding Color Guard – Pioneer-Pleasant Vale High School
Seven bands in addition to the Northwestern band participated in the massed band performance bringing the size of the performance to about 150 students.
Northwestern played host to several other activities including the alumni band and the crowning of the Ranger King and Queen.
This year's Ranger Royalty included Ranger King Fernando Nunez, a junior psychology major from Laverne, who was sponsored by the Student Support Services. He is the son of Oscar and Jaqueline Nunez.
Ranger Queen is Carli Seabolt, a junior business administration major from Perry, who was sponsored by the Ranger Business club. She is the daughter of Steve and Shellie Seabolt.
Maria Sosa of Laverne was crowned Freshman Queen during the Ranger Royalty Finalist banquet. The biology major is the daughter of Julian Sosa and Pilar Martinez.
(Left) Karen Koehn, homecoming button chair, and Dr. David Pecha, university executive vice president and homecoming chair, presented the $1,000 in Alva Chamber Bucks to button winner, Erin Davis.
The winner of the Northwestern homecoming button drawing for the $1,000 Alva Chamber Bucks was Erin Davis of Alva. The Northwestern university relations specialist also earned her bachelor's and master's degrees from Northwestern.
Winner of the Northwestern Foundation and Alumni Association medallion hunt was Dr. Aaron Mason, professor of political science, and his wife, Dee Mason. The Masons won the medallion along with $100 in Alva Chamber Bucks.
The winner of the Northwestern Foundation and Alumni Association Ranger quilt raffle was Jana Brown, instructor of history.
Northwestern's on-campus activities had a great turnout of decorations that showed Ranger spirit.
Best in Show for the on-campus Spirit Sheets Competition was the NWOSU Art Society, and the Ranger Spirit award went to the Castle Players Theatre Club.
Best in Show for the on-campus Spirit Boards Competition was the Chemistry Club, and the Ranger Spirit award went to the Woodward Leadership Advisory Board.
The winning office/window display went to the J.W. Martin Library, the J.R. Holder Wellness Center received second, and the Financial Aid office received third.
The winning door/wall display went to the Dean of Faculty office, Student Support Services received second, and the Division of Business received third.
Northwestern's Homecoming Committee had a drawing incentive for button salespersons where two winners could take home $50 in Chamber Bucks. The winner of the drawing for button salespersons for on-campus sales was Angelia Case, academic projects assistant/media specialist for Northwestern, and the winner for off-campus sales was Lizabeth Richey.
"On behalf of the Northwestern Homecoming Committee, thank you to everyone who sold and purchased Northwestern homecoming buttons, and thank you merchants for sharing your generosity and enthusiasm with the incentives," Karen Koehn, Homecoming button chair, said. "Thanks to everyone's generosity, we were able to continue to move into a new era of decorating Alva by purchasing new banners. Our committee strives to build homecoming every year and with the button sales, we're able to enhance our homecoming activities.
"As chairman, I can not do this alone! Forty phenomenal salespeople volunteer their time and dedication to help Northwestern Homecoming get better every year. The money from the sale of these buttons pays for everything that involves Northwestern's Homecoming. You all continue to inspire me and restate my favorite saying, 'Lucky me…I live in Alva, OK!'"
Homecoming is a community effort, and the homecoming committee is grateful to everyone who made the week and official homecoming day a success.
"Despite the cold start on Saturday morning, I would say Homecoming 2022 was very successful," said Dr. David Pecha, homecoming chairman and university executive vice president. "This annual event allows friends and alumni of Northwestern to reunite. The committee has already started work for Homecoming 2023!"
Next year's Homecoming will be celebrated Thursday through Saturday, Oct. 5-7, 2023.
Be watching for a contest to open during the spring semester to enter ideas for next year's homecoming theme and parade marshal. Until then, people may enter the competition at www.nwosu.edu/homecoming. The homecoming committee will consider all entries and make an announcement of the new theme and parade marshal during the spring semester.
Photos from the homecoming events can be found at https://nwosuhomecoming.shutterfly.com/.
-NW-