Northwest Oklahoma Concert Series Announces Four Acts for 2021-2022 Season
September 10, 2021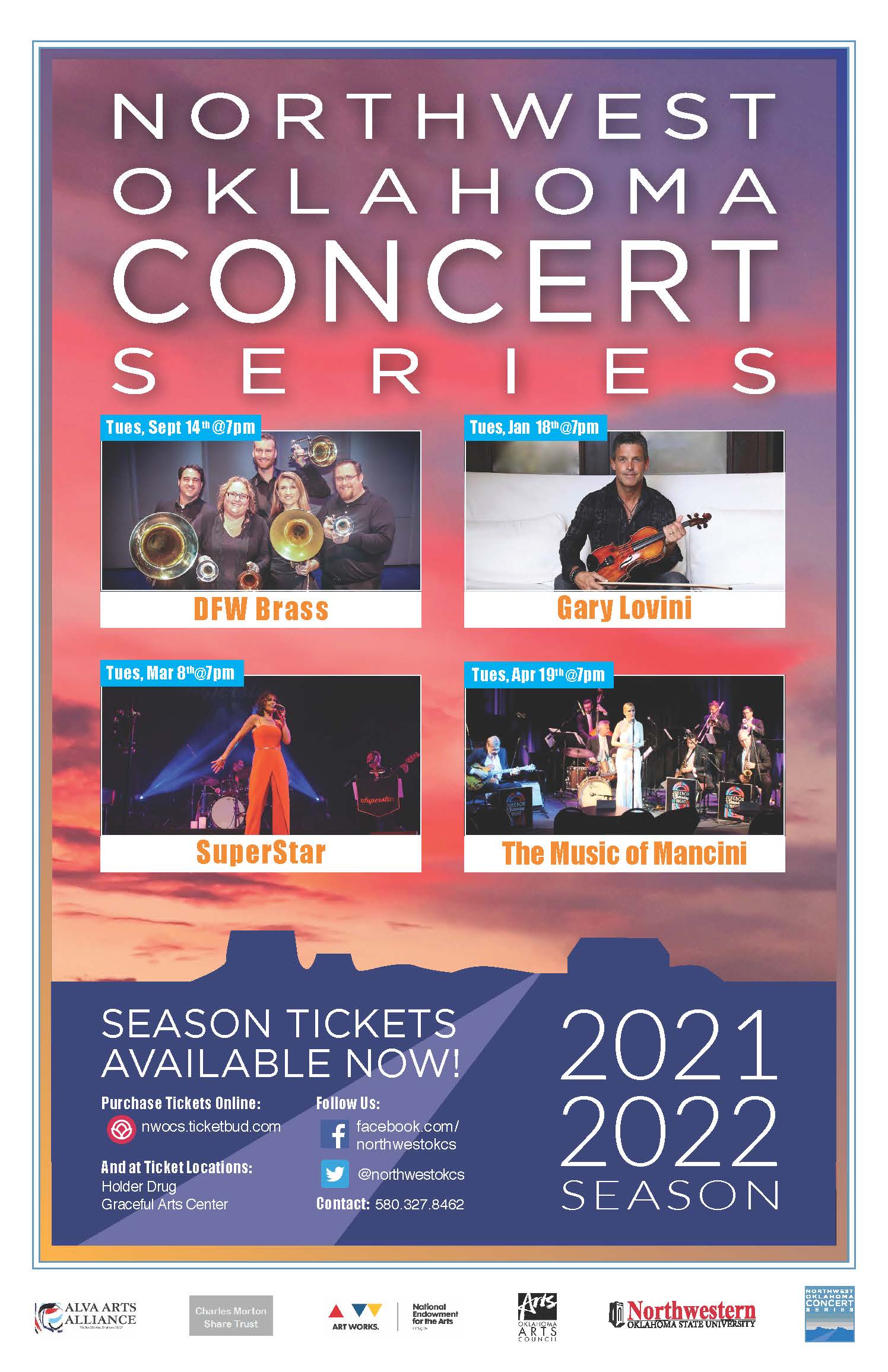 ---
Northwest Oklahoma Concert Series (NWOCS), an organization that seeks to bring cultural performances and entertainment to northwest Oklahoma, will begin its 2021-22 season Tuesday, Sept. 14, and the advisory board is selling season tickets to its four scheduled acts. All four concerts will take place on Tuesdays, with the respective dates, at 7 p.m. in Northwestern Oklahoma State University's Herod Hall Auditorium.
This year's schedule includes DFW Brass, Sept. 14; Gary Lovini, Jan. 18, 2022; Superstar, March 8, 2022; and Music of Mancini - Jukebox Saturday Night, April 19, 2022.
More information on the four scheduled acts follows: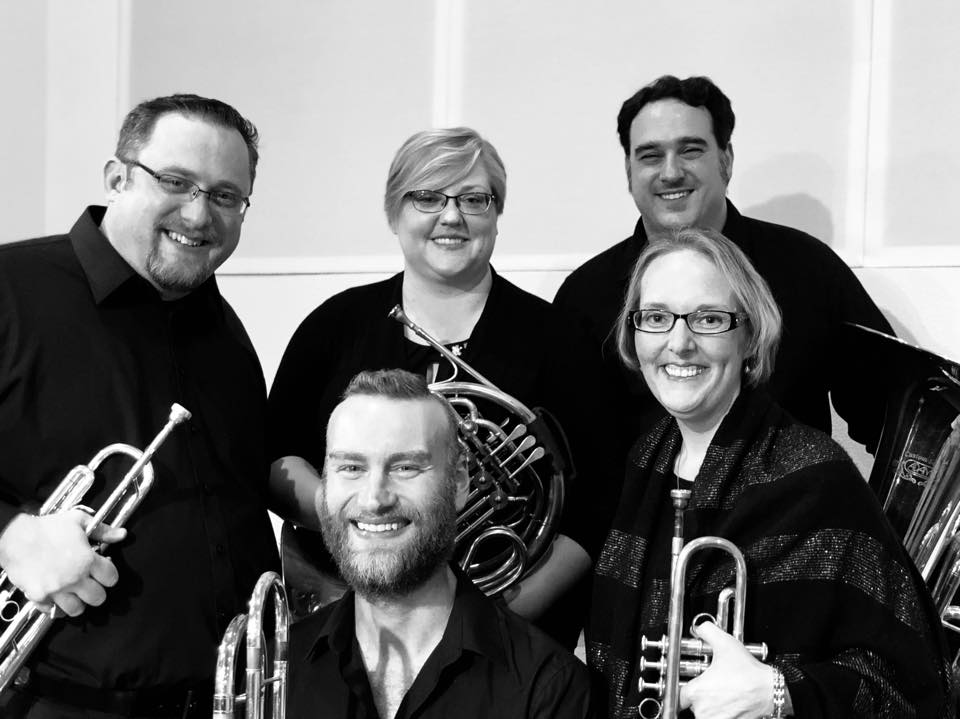 DFW Brass, Sept. 14, 2021
DFW Brass is enthusiastic about sharing music with audiences everywhere.
In addition to performing with local orchestras and organizations such as the Dallas Opera, Dallas Symphony Orchestra, the Fort Worth Symphony, Plano Symphony and Irving Symphony, the members of DFW Brass have performed throughout the world including at The Vatican, Carnegie Hall, cruise liners, the Shanghai Radio Symphony, Italian Opera houses, and multiple international music festivals throughout Europe as well as North, Central and South America.
For more information on DFW Brass visit www.DFWBrass.com.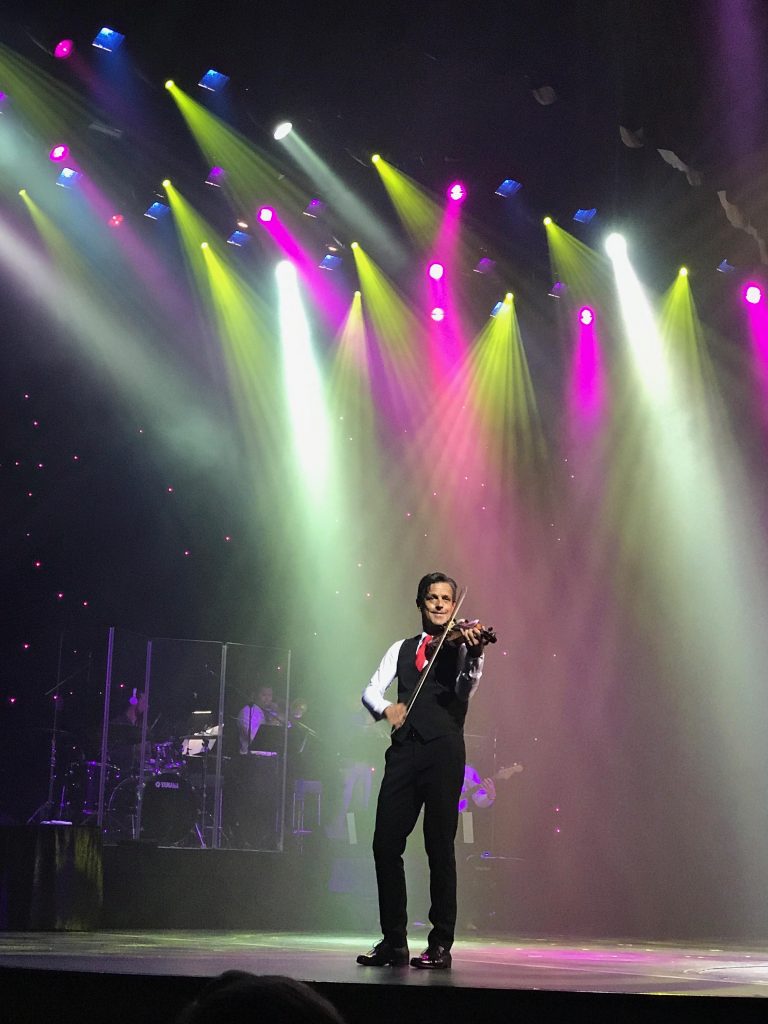 Gary Lovini, Jan. 18, 2022
Gary Lovini originally hails from the United Kingdom where he began his professional music career as a teenager. Today he makes his home in Orlando, Florida. Lovini's mastery of the violin has seen him build up a loyal following amongst classical and pop fans alike. Having successfully bridged the gap between classical and popular music, Lovini has played an important role in bringing his violin showmanship to a wider audience. Lovini stole his nation's hearts and was catapulted into stardom and the public eye, after winning a major British TV talent show. He has performed his electrifying Headliner Show at famous theaters and concert venues around the world, including the London Palladium and the Dr. Phillips Centre for the Performing Arts in Orlando. He has had the huge honor of personally meeting Her Majesty The Queen at Buckingham Palace and performed on The Royal Variety Performance for the BBC. Highly regarded by both the music industry and the general public, Lovini's unquestionable musical talent and showmanship has seen him completely transform the image of the violin as an instrument often associated solely suitable for classical music. His inimitable style and mastery of the instrument through all genres of music will ensure he remains an iconic figure in modern-day classical and pop music.
For more information on Gary Lovini visit https://www.garylovini.com/.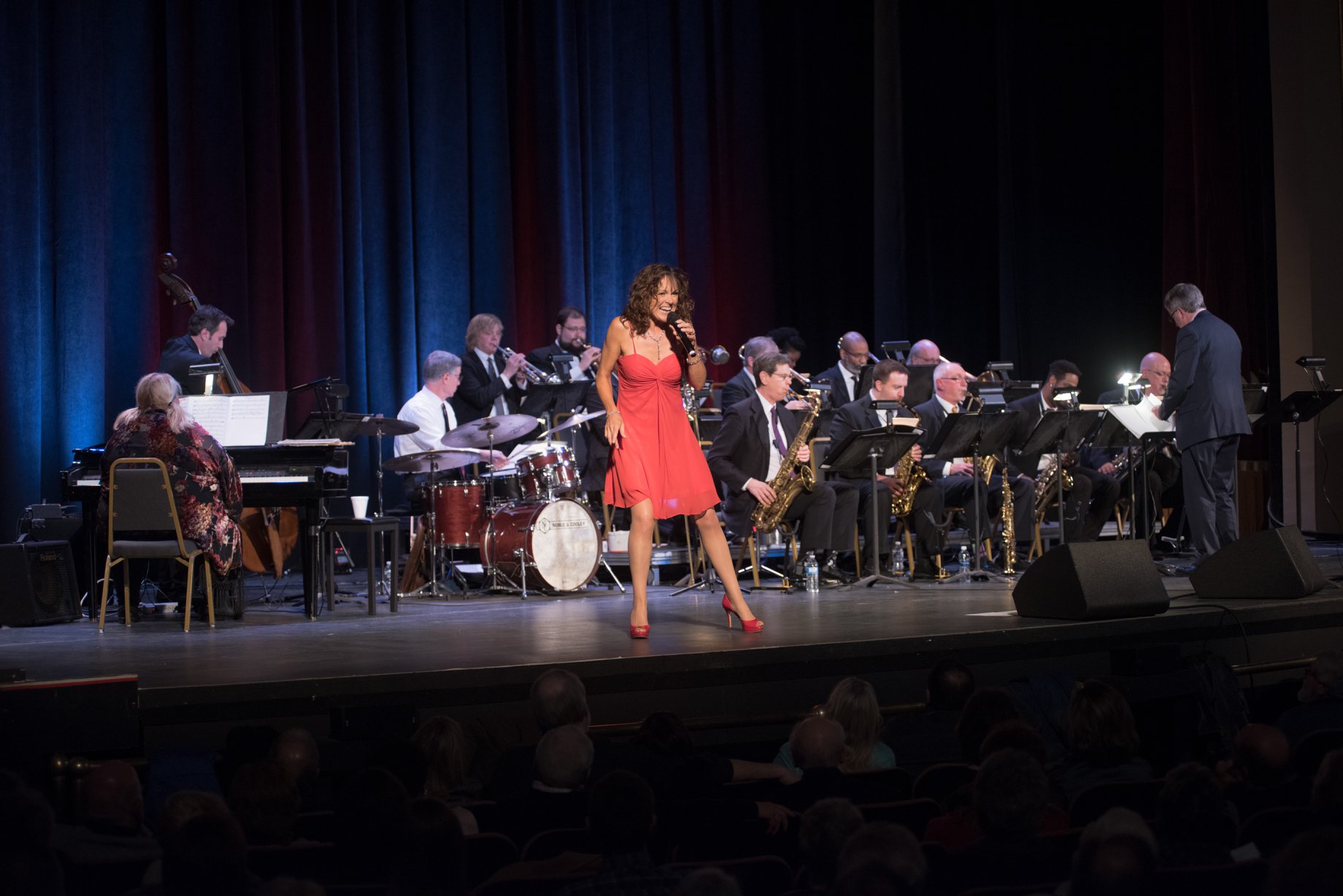 Superstar, March 8, 2022
Starring international vocalist Helen Welch, this dynamic, uplifting and magical musical journey features over 20 classic hits by the famous sister/brother duo — The Carpenters. While the string of new megahits by The Carpenters ended with the 1983 death of Karen Carpenter, the catalog of songs by the Grammy-winning pair have become classics. "Superstar" is not a tribute concert, but an original, fresh perspective of songs peppered with vignettes that finally captures the true quality and essence of The Carpenters in an uplifting and respectful manner.
Welch's distinctive, alto voice settles in perfectly amidst precise, lush new arrangements of songs such as: "Close To You" (The Carpenters' most popular song), "We've Only Just Begun," "On Top of The World," "Rainy Days and Mondays" and more, as well as the title song "Superstar." The hits are intertwined with Welch's cheeky British humor, stage presence and fascinating, unheard backstage stories.
For more information on Superstar visit https://phoenixtalentagency.com/portfolio/superstar/.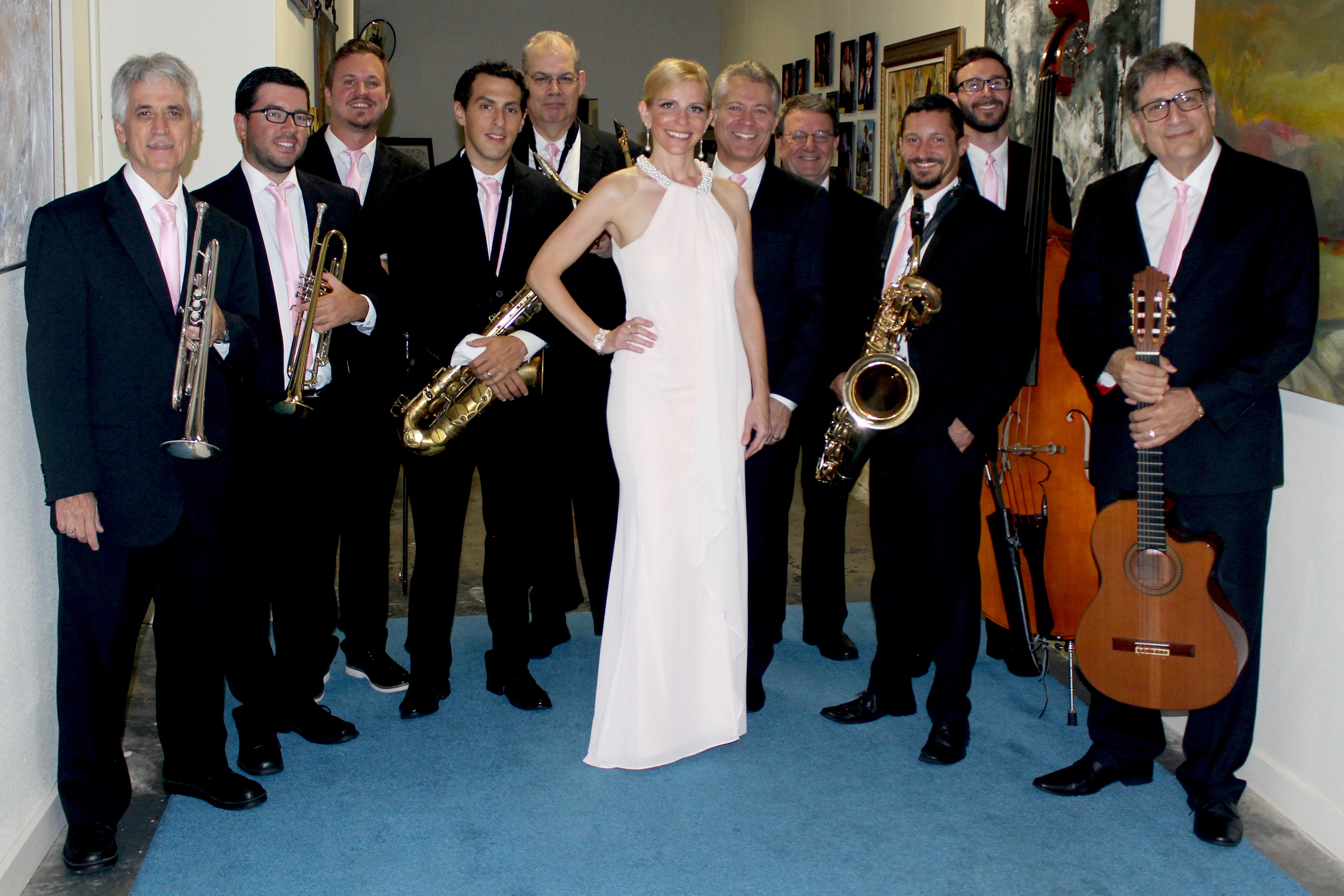 Music of Mancini – Jukebox Saturday Night, April 19, 2022
Jukebox Saturday Night celebrates the compositions of Henry Mancini from his early work with the Glenn Miller Orchestra including music from the film "The Glenn Miller Story" to his memorable melodies from TV and film classics such as "Peter Gunn," "Breakfast at Tiffany's," "The Pink Panther" and many more. A concise narration throughout the show includes historical information from Mancini's very successful career, from his childhood in Pittsburgh, Pennsylvania, to his stardom in Hollywood.
The program includes "The Pink Panther Theme," "The Days of Wine and Roses," "Moon River," "Charade," "Baby Elephant Walk," "Too Little Time," "The Sweetheart Tree" and many others.
Jukebox Saturday Night is managed by Glenn Miller Productions, Inc. With over 60 years of successfully managing the World Famous Glenn Miller Orchestra, this company knows how to produce a great show.
For more information on Music of Mancini – Jukebox Saturday Night visit https://phoenixtalentagency.com/portfolio/music-of-mancini-jukebox-saturday-night/.
Season tickets, as well as individual performance tickets, may be purchased online at www.nwocs.ticketbud.com or from Holder Drug or Graceful Arts Center. Anyone interested in buying a contributor package or tickets can contact Kimberly Weast, chair of the Department of Fine Arts, at kkweast@nwosu.edu or (580) 327-8462.
The reserved seating section at each concert will be held until five minutes prior to the performance.
Stay up-to-date with NWOCS by liking the Facebook page at www.facebook.com/NorthwestOkCS/ or on Twitter at @NorthwestOkCS. Keep an eye out for the hashtag #NWOCS.
The Northwest Oklahoma Concert Series is supported by Northwestern, the Oklahoma Arts Council, the National Endowment for the Arts and the Charles Morton Share Trust.
-NW-
CONTACT FOR RELEASE
Erin Davis, University Relations Specialist
eedavis@nwosu.edu, 580-327-8480