No Tuition Increase for Northwestern
July 14, 2022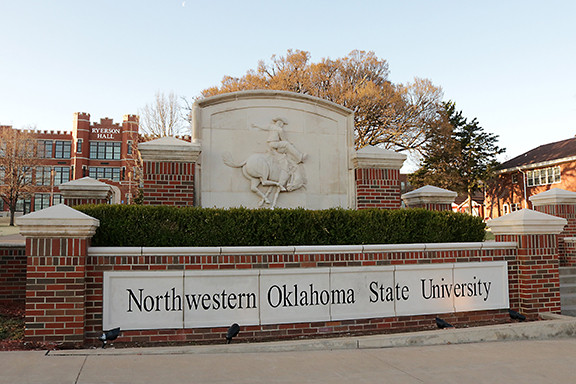 Northwestern Oklahoma State University - north entrance sign with Ryerson Hall in the background.
Northwestern Oklahoma State University's budget has been approved by the Regional University System of Oklahoma and Oklahoma State Regents for Higher Education for fiscal year 2023.
The budget consists of $27,433,278 in E&G funding and $1,173,400 from CARES funds. The FY23 budget shows an increase of $459,791 in state appropriations.
Northwestern officials noted that no increase was made to tuition and mandatory fees with resident undergraduate tuition and mandatory fees remaining at $248.75 per credit hour. However, room and board charges will increase.
Mandatory cost increases for the university include a 2.83 percent rise in health insurance costs for full-time employees. Other areas in which the university will see cost increases include gasoline, utilities and risk management building insurance.
Northwestern has added a nursing position to focus on the RN-to-BSN program with funds from the new Oklahoma's Critical Workforce Development Initiative. Resources from this initiative will also be used to increase graduate offerings in education and additional courses in computer science, which are identified as other areas of critical need in the state.
"We are excited to start the new year," said Dr. Bo Hannaford, university president. "We are thankful for having some new money within our budget that allows Northwestern to prioritize some needed changes that will help us meet the mission of the university while impacting students, faculty and staff. I am looking forward to having our students back on campus."
Northwestern continues to support student success by committing 82.4 percent of expenditures targeted for instruction, scholarships, student services and academic support. The university strives to protect the core academic functions of the institution and maintain the academic and support services required by students.
For more information about Northwestern, or to enroll for the fall semester that begins Aug. 15, visit www.nwosu.edu or call 580-327-1700.
-NW-