Musical talent of Northwestern to come together for Holiday Gala Dec. 7
November 29, 2019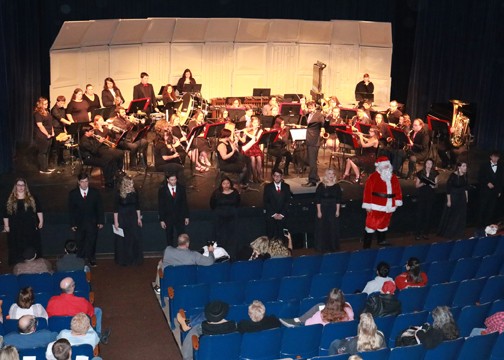 The annual Northwestern Holiday Gala, seen here from 2018, is set for Saturday, Dec. 7, at 7 p.m. in Herod Hall Auditorium. The event is free and open to the public.
The Concert Choir, Chorale, University Singers, Jazz Ensemble and Symphony Band of Northwestern Oklahoma State University will perform Christmas music for the Holiday Gala in Herod Hall Auditorium in Alva on Dec. 7 at 7 p.m. The traditional tree lighting ceremony will take place immediately following on the Herod Hall lawn.
"Lots and lots of Christmas music" — that's what Seth Cudd, director of bands and instructor of music at Northwestern, said partakers of the annual Holiday Gala can expect.
"The Holiday Gala is a Fine Arts music tradition we have at Northwestern to present the vocal and instrumental ensembles in collaboration and celebration of Christmas and the holidays, " Karsten Longhurst, director of choral studies and instructor of music, said. "Audiences will hear familiar holiday songs and have an opportunity to sing along."
The choirs and bands have put together a set list of Christmas favorites that most likely every guest of the Holiday Gala will know, Cudd said. Each band has a unique series of songs they are prepared to play, along with one long piece selected for the Symphony Band and Concert Choir to perform as a duet.
The Jazz Ensemble will be performing four songs: "Reboot," "What a Wonderful World," "Linus and Lucy" and "Angels We Have Heard on High." The drumline of the band will be playing percussion instruments to "Carol of the Bells" during the evening as well, along with three pieces performed by the Symphony Band: "Themes from the Nutcracker," "A Holst Christmas" and "Holiday Favorites."
The voices of the Concert Choir, Chorale and University Singers have their own set of songs to perform as well. Longhurst said there are 10 songs the vocal performers of the evening will sing. Among those are the songs, "In Meeting We are Blessed," "Sussex Carol," "The First Noel," "The Virgin Mary Had a Baby Boy," "Go Where I Send Thee," "Brightest and Best Hymn," "Glow," "That's Christmas to Me," "Still, Still, Still" on choir chimes and "Holiday Favorites" with the band.
Cudd said "Holiday Favorites" is not one singular song, but a series of five Christmas songs. Despite how difficult it may sound, Cudd said the band and choir have had no problems in putting together the piece or the arrangement for the Gala.
Immediately following the concert, guests are invited to gather on the lawn of Herod Hall where a decorated Christmas tree will be ready and waiting to be lit by the flip of a switch from Dr. Janet Cunningham, Northwestern president. Free hot chocolate and apple cider will be served, provided by the Student Government Association.
For more information about the Holiday Gala or the music programs, contact Cudd at (580) 327-8191 or mscudd@nwosu.edu or Longhurst at (580) 327-8692 or krlonghurst@nwosu.edu.
-NW-