More than 270 High School Leaders at Northwestern for Student Council Workshop
June 14, 2022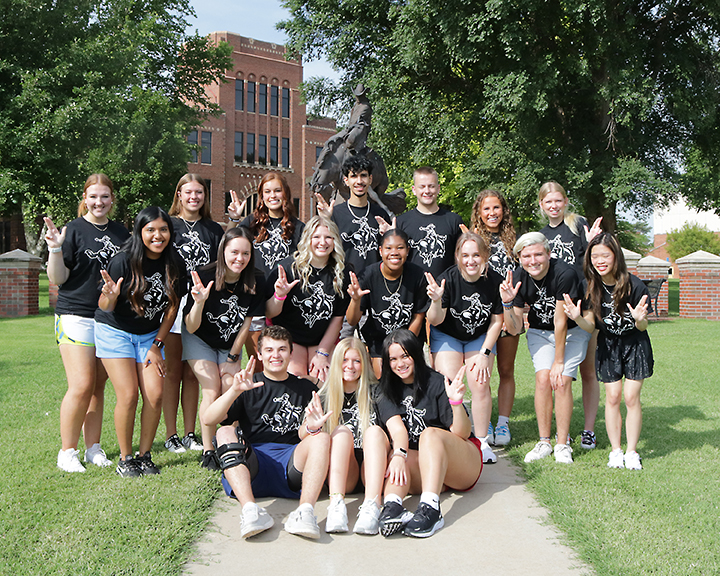 High school graduates preparing to be junior counselors attending the June OASC Basic workshop June 12-17 are (back row, left to right) Chloe Lehr, Taylor Piercy, Ashly Chavez, Diego Ochoa, Jack Hill, Kate Tuttle and Gracie Blubaugh; (middle row) Chabelli Mendoza, Alyssa Johnson, Addyson Lyndsey, Adrianna Newby, Madeline Camp, Lakota Tolloak and Kaylee Do; (front row) Harry Powers-president, Hannah Feurerhelm-vice president, and Breianah Peterson-secretary.
For the 13th summer, members of the Oklahoma Association of Student Councils (OASC) have gathered on Northwestern Oklahoma State University's Alva campus for BASIC, a leadership workshop, June 12-17. More than 270 high school students from across Oklahoma are attending this camp, where students engage in major skill development sessions.
Students attending for the week include high school sophomores, juniors and seniors. During the workshop, students are divided into 12 councils where they must come up with a school name, mascot, colors and a school song and chant. Students in each council also are given real-life problems to solve and then act out their resolutions using skits. They also participate in breakout sessions that include leadership styles, team building, etiquette, school spirit and activities.
Junior Counselors, members of OASC who have graduated high school, were assigned to each of the 12 councils. Those students include Gracie Blubaugh, Madeline Camp, Ashly Chavez, Kaylee Do, Hannah Feurerhelm-vice president, Jack Hill, Alyssa Johnson, Chloe Lehr, Addyson Lyndsey, Chabelli Mendoza, Adrianna Newby, Diego Ochoa, Breianah Peterson-secretary, Taylor Piercy, Harry Powers-president, Lakota Tolloak and Kate Tuttle.
Students are using various buildings around campus and stay in university housing along with the directors: Karen Koehn of Alva Northwest Technology Center, workshop director for junior counselors and state officers; Denise Tomlinson of Bixby High School, director of facilities; Melinda Parks of Westmoore High School, director of curriculum and adult staff; and Shawn Freeman of Ada High School, director of registration.
Koehn said she is very thankful to Northwestern and the Alva community for their support in playing host to the event.
"For the last 13 summers, NWOSU, the city of Alva and this community have welcomed OASC BASIC to town," Koehn said. "The passion and dedication that everyone shows to the delegates and staff are spread throughout the state as they return home after this workshop! On behalf of OASC BASIC, THANK YOU for welcoming us into your family!"
A second BASIC workshop will take place on Northwestern's campus July 10-15.
-NW-