Miss Oklahoma 2017 Triana Browne to emcee Northwestern's Miss Cinderella Pageant on Sept. 29
September 14, 2017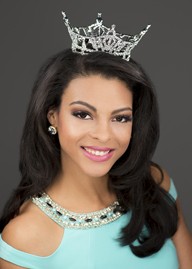 Miss Oklahoma 2017 Triana Browne to emcee Northwestern's Miss Cinderella Pageant on Sept. 29
---
Serving as emcee at Northwestern Oklahoma State University's 66th Miss Cinderella Pageant is Miss Oklahoma 2017 Triana Browne. Browne will lead the pageant on Friday, Sept. 29, at 8 p.m. in Herod Hall Auditorium during the annual Homecoming week events.
Browne is a graduate of Oklahoma State University (OSU) with a degree in Human Development and Family Sciences with a focus in psychology and a minor in sociology. During her undergraduate career, she was involved in various organizations and activities across campus which included: The Oklahoma State University Women's Track and Field team, Student Health Council, Fellowship of Christian Athletes, and Student Athletic Advisory Committee. She was awarded the Academic Achievement Award, 2014 Second-Team Academic All-Big XII, Dean's Honor Roll, 2014-2016 All-Big XII Honors, Top-10 Senior Nomination, Track and Field Scholarship, and Recipient of the Chickasaw Nation Academic Scholarship.
After graduating college in May of 2016, Browne spent her time working part-time at Sky Fitness and Well-Being and coaching athletes from the ages of 4-18 for the USA Track and Field Summer teams, leading them all the way to the Junior Olympics.
She has served as the Regional Coordinator for the Winter and Summer Special Olympics, volunteered at the Eastern Oklahoma Food Bank, and has partnered with the American Heart Association for the past two years as the Honorary Cardiovascular Disease survivor leading more than 10,000 participants in the Tulsa Heart Walk. Triana was selected to sing the National Anthem this past year at the Jim Thorpe Awards, and has partnered with the Boys and Girls Club of both Tulsa and Oklahoma City, spreading her platform, Bridging the Great Cultural Divide.
At the age of 5, Browne began discovering her passions in athletics, music, and theater. By the age of 7 she began her streak as the state and regional champion in the 200-meter dash, 400-meter dash, and 800-meter run qualifying her for the Junior Olympics, all while balancing auditioning for acting roles and competing in local talent shows. Browne continued her passions all the way through college becoming a Division 1 Track and Field Heptathlete, and after only three months of training, qualifying then placing top 10 at the Big XII Track and Field Championship in the Heptathlon. She has also been featured in multiple films and the Kings of Leon music video for Beautiful War.
Browne began competing in the Miss America Organization at the age of 16 in the Miss Georgia's Outstanding Teen Program after placing Top 10 at a local pageant, where she was appointed as a titleholder. She returned to her pageant career once in college with the hopes of paying towards her tuition for the semester. At the age of 22, she received first runner-up at the Miss OSU pageant and overall interview award. The next year returning to the Miss OSU pageant, Browne won the title taking her to her first Miss Oklahoma Scholarship Competition in 2016. Although she did not qualify as a semi-finalist, she returned to Miss Oklahoma the following year as Miss Oklahoma City becoming a Community Service Finalist, Preliminary Overall Talent Winner, and ultimately Miss Oklahoma 2017. Although her pageant journey was shorter than most before gaining the title of Miss Oklahoma, it taught her the importance of dedication, hard work, sacrifice, and service.
Browne plans to travel the state as Miss Oklahoma and spread the awareness of her platform, Bridging the Great Cultural Divide, and the importance of nurturing cultural compassion through Culturosity by motivating, empowering, and educating children and young adults about other cultures, starting conversations, and challenging intolerance respectfully.
She is the daughter of Joel Hearrell and Dr. Monica Browne and has eight brothers and two sisters ranging from the ages of 5 to 34.
The 2017 contestants and the high schools they represent are: Shawna Adams, Fargo-Gage; Jaden Allen, Burlington; Sydnie Classen, Cimarron; Tia Creed, Laverne; Jayden Dillon, Timberlake; Nicole Hughes, Freedom; Tasi Hughes, Chisholm; Alaina Hurst, Alva; Amy Lara, Shattuck; Klaycie Lingo, Ringwood; Kimber McNaught, Mooreland; Shelby Porter, Cherokee; Kayli JoAnn Ryel, Aline-Cleo; Shaelee Sissom, Kremlin-Hillsdale; Kassidy Stephens, Perryton, Texas; Makenna Sterling, Medford; Lexi Vanderwork, Woodward; Brooklinn Weber, Waynoka; and Glenna Williams, South Barber, Kansas.
Miss Cinderella Talent night will be held on Thursday, Sept. 29, at 7:30 p.m. Tickets for the Miss Cinderella talent and pageant competitions will be available at the door for $10 each night or free with the purchase of a homecoming button which will grant entry into both Miss Cinderella events. Northwestern student tickets, with ID, are $5 per night or the same as one homecoming button purchase for free admission.
There is a limited supply of Northwestern's homecoming buttons, based on availability the committee will have buttons available for purchase at the door on Thursday for $10. Button purchasers need to be aware that seating at events is a first-come, first-served basis.
Those purchasing buttons also will be able to gain admission to the Ranger football game against Southeastern Oklahoma State University on Saturday, Sept. 30, at 4 p.m. Tickets to the game will be $18 at the gate.
Homecoming buttons also provide the people wearing them numerous discounts at Alva businesses during the week of homecoming. For a list of those discounts please visit www.nwosu.edu/homecoming. Each button also is numbered for a chance to win in a drawing for $500 in Alva Chamber bucks. That number will be drawn during the homecoming football game, and the winner must be at the game wearing the button to win.
More information on Northwestern's annual homecoming celebration may be found online at www.nwosu.edu/homecoming.
-NW-
CONTACT FOR RELEASE
Ali Gavitt, University Relations Specialist
apgavitt@nwosu.edu, 580-327-848