MASH Camp helps teach young students about health service opportunities
June 7, 2021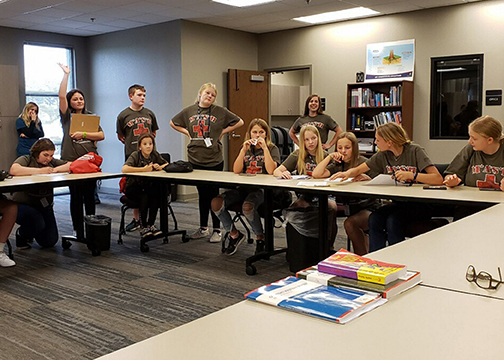 Twenty-three area students attended MASH Camp to learn about careers in healthcare. MASH Camp is a collaborative project between Northwestern and Northwest Technology Center. Students pictured are preparing for hands-on CPR training.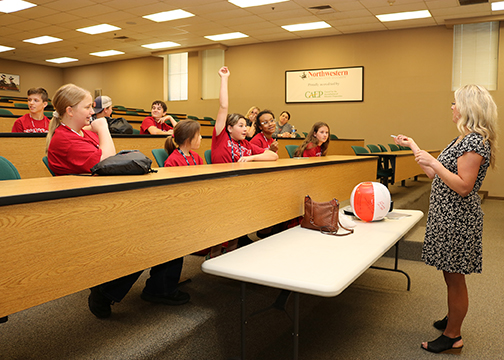 Taylor Wilson visits with the middle schoolers about taking care of their mental health.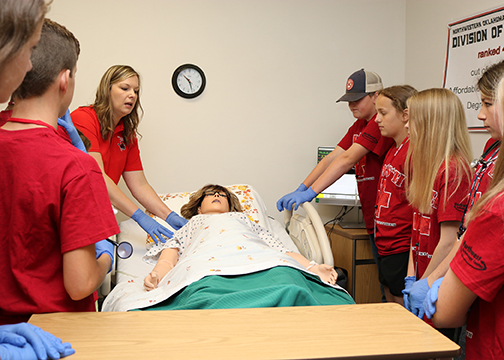 Dr. Leslie Collins (left) talks to the MASH Camp attendees about being a nurse and Northwestern's nursing program.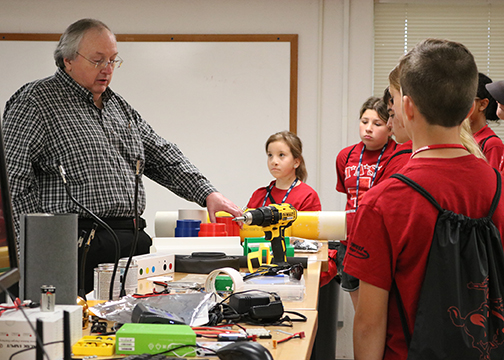 Mark Bagley tells the MASH Campers how getting a degree in computer science and working with robotics can help them work within the health services area.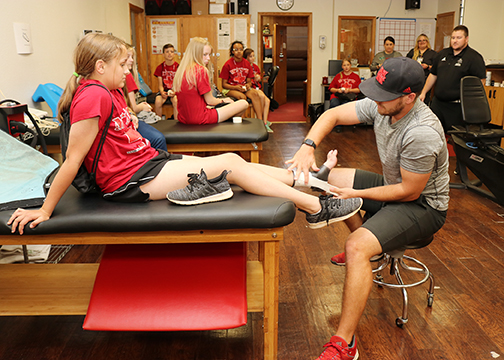 MASH Camper Tiffany Stevens volunteered to have her ankle taped by Garrett Thompson while Keith Wear talks about the job of an athletic trainer.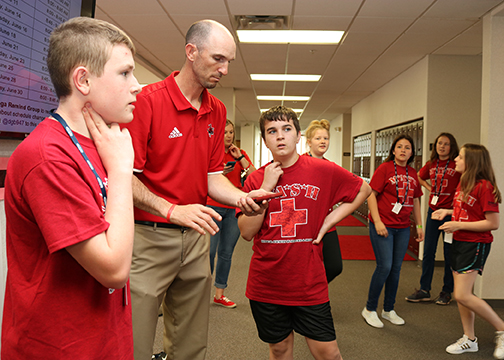 Shane Hansen helps the MASH Campers learn how to determine their heart rate before and after exercising.
Northwestern Oklahoma State University and Northwest Technology Center were able to once again partner to offer MASH (Medical Avenues in Service and Health) Camp to northwest Oklahoma students who will be entering the seventh grade in the fall. This year, 23 students attended from Alva and Cherokee.
The middle schoolers had two full days of activities to help them learn more about medical and health service areas and what opportunities they may have for careers in these fields.
"Northwestern and Northwest Technology Center were excited to get MASH Camp started again this summer," said Dr. Bo Hannaford, executive vice president at Northwestern. "Having a summer off due to COVID and the uncertainty of where we would be this summer, we loved having the students on both of our campuses to show them the opportunities each one could have for careers in health services. Getting our students and faculty working with them is exciting to see, and we look forward to getting back to our typical numbers again next summer."
At Northwestern on May 26, the students learned about the nursing profession, as well as what it takes to be an athletic trainer. They learned about ways to better deal with their mental health, learned more about their physical health, and also how working with computers or robotics can fit into a health-related field.
Northwestern employees sharing information with the campers included Mark Bagley, instructor of computer science; Dr. Leslie Collins, associate professor of nursing and assistant chair to the Charles Morton Share Trust Division of Nursing; Dr. Bo Hannaford; Tara Hannaford, director of financial aid/scholarships; Shane Hansen, instructor of health and sports science; Garrett Thompson, assistant athletic trainer; Evan Vaverka, instructor of computer science; Keith Wear, head athletic trainer; and Taylor Wilson, LPC, director of counseling and career services. Nursing students helping included Sydney Hamill, Anthony, Kansas, senior; and Calli Lewis, Arnett senior; along with nursing graduate Joni Welch, currently an emergency room nurse at St. Mary's Regional Medical Center in Enid who is completing her master's practicum with Northeastern State University by working with the Northwestern Division of Nursing this summer.
At NWTC on May 27, the students learned about CPR and certification, as well as forensic investigation.
NWTC staff who shared information with the campers included Jeremy Eaton, assistant superintendent, Alva campus; Brenna Heaton, biomedical sciences instructor; Kala Mead, biomedical sciences instructor; Brooke Meyer, health careers certification instructor; Kylee Pfleider, math instructor; Tara Thomas, practical nursing instructor; and Kayla Turner, BIS health coordinator.
"We are pleased to partner with NWOSU for MASH Camp, Easton said. "This project is beneficial to area students to help them explore careers in the medical field. Our employees love sharing scientific knowledge and working with the students to show them the large variety of careers in healthcare that are available to them and are needed in northwest Oklahoma."
Campers Connor Adair and Tucker Hannaford both liked learning about CPR so they can help save lives. Tucker Hannaford also enjoyed learning about what an athletic trainer does in that job. Tiffany Stevens said she really liked how they used the criminal investigation to learn about medical things.
"MASH Camp is integral to building those professions that are in need and showing students many possibilities of serving others through medical avenues in health services," said Dr. Leslie Collins, associate professor of nursing and chair of the Division of Nursing. "Attendees learn not only what these professions are but how they can prepare themselves for these careers."
Collins added that MASH Camp wouldn't be possible without the faculty and staff from the two institutions who collaborate and take time out of their summer break to share information with these students. She also thanked the Wisdom Family Foundation for its continued support of this collaborative effort.
-NW-