Linda Tutwiler to lead Northwestern Homecoming Parade Oct. 9 as marshal
October 1, 2021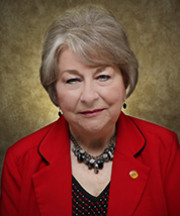 Linda Tutwiler is the 2021 Northwestern Homecoming Parade Marshal and will lead the parade on Oct. 9 starting at 10 a.m. in downtown Alva.
Linda Tutwiler will lead Northwestern Oklahoma State University's annual homecoming parade as its marshal starting at 10 a.m. on Saturday, Oct. 9, on Alva's downtown square.
Upon learning she was chosen as parade marshal, Tutwiler couldn't believe it.
"The first thing out of my mouth was, 'Are you sure?'" Tutwiler said.
A 1992 graduate of Northwestern, Tutwiler earned both her bachelor's and master's degrees from the university. During college, Tutwiler said she was too busy to be involved with clubs and remembers always being the oldest student.
"I had one class with my son, who kind of ignored me and just pretended I was just another person in the class," Tutwiler said. "I tried really hard to keep up with all the students in Elda Jones' Rhythmic Aerobics."
While working toward her degrees at Northwestern, Tutwiler raised two sons, Mark and Eric, and also worked as an employee of the university, all while maintaining her spot on the President's Honor Roll each semester.
She served as the administrative assistant to the president for 23 years, 1986-2009.
"I've worked under four university presidents, and each had their own leadership style," Tutwiler said. "I learned a lot from each one.
"Northwestern has been a huge part of my life."
During her career at Northwestern, Tutwiler also served as a member of the Staff Council, the Grounds and Beautification Committee and Accreditation teams. She also taught one session of the President's Leadership Class each year. She received the Thelma Crouch Staff Employee of the Year award in 2008 and the 20-year service award.
In 2016, she received the Northwestern Foundation and Alumni Association Outstanding Graduate award in the Ranger Spirit category. She is the chair of the Northwestern Foundation Stewardship Committee and continues to raise scholarship funds for Northwestern students during the annual scholarship drive.
Since retirement Tutwiler has remained active in the Northwestern and the Alva communities. She is a member of the Woods County Retired Educators Association, the Nescatunga Arts and Humanities Council and volunteers with the Graceful Arts Gallery and Studio.
Dr. Janet Cunningham, university president, noted how honored the university is to have Tutwiler serve as this year's marshal.
"Linda has been a great part of Northwestern for a long time, as a student, employee and alumna," Cunningham said. "She never misses a Northwestern event!"
Tutwiler's son Mark graduated with her from Northwestern in 1992 and her son Eric has been with the Northwestern maintenance department for nearly 22 years.
Tutwiler said the popular quote "Life is not measured by the number of breaths we take, but by the moments that take our breath away" is a perfect way to describe this moment in her life.
For more information on the homecoming schedule visit www.nwosu.edu/homecoming.
-NW-