Larson named to Oklahoma Visual Arts Coalition Board of Directors
March 7, 2019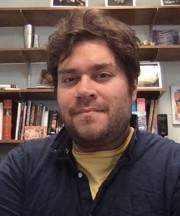 Kyle Larson
Kyle Larson, assistant professor of art in Northwestern Oklahoma State University's visual arts program, has been named to the board of directors for the Oklahoma Visual Arts Coalition (OVAC), a non-profit organization that supports visual artists living and working in Oklahoma. The organization is celebrating its 30th anniversary this year.
Larson said that he had correspondence with OVAC members and board members throughout his four years at Northwestern and through various arts events. He said he learned of an opening on the board and discussed the possibility of joining them after meeting a few of the board members at a reception for his solo exhibition in November 2018 at the TAC Gallery in Tulsa.
"I am excited to be a member of such an important organization," Larson said. "OVAC performs a crucial role of helping support and showcase artists and their endeavors, providing platforms for cultural exchanges and experiences throughout the state. I am looking forward to collaborating with other fellow artists and arts administrators in Oklahoma. It is also an honor to be an advocate for the visual arts in northwest Oklahoma."
Larson said his hope is to support artists and cultural events in northwest Oklahoma with the goal of having more participation and involvement in the arts from Northwestern, the community and region.
He said he plans to attend meetings and events when possible as they primarily take place in Tulsa and Oklahoma City.
"I will be working closely with the Programs Committee," Larson said. "OVAC has a number of fantastic reoccurring programs that all Oklahoma artists and community members can attend, participate in and benefit from."
These programs include one for Oklahoma artists ages 30 and younger, honorariums to selected artists to create new bodies of work, volunteer opportunities, internships and more. Information about these programs and others can be found on OVAC's website at http://ovac-ok.org.
-NW-