Junior High, High School Students Invited to Free Choir Workshop at Northwestern Sept. 10
August 10, 2022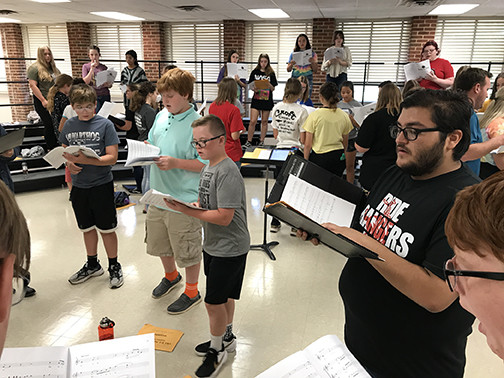 Northwestern choir students work alongside junior high and high school students last year as they prepare songs for honor choir and all-state choir auditions. This year's rehearsal is scheduled for Sept. 10 in Alva.
Local and area junior high and high school students are welcome to attend a free choir workshop at Northwestern Oklahoma State University-Alva to help prepare honor choir and Oklahoma All-State Choir audition songs.
The choir workshop will be on Sept. 10 from 9 a.m. to 12:30 p.m. Junior high students will rehearse in the J.W. Martin Library Annex while high school students will be in the Student Center Ballroom.
The high school students will be instructed by Dr. Karsten Longhurst, assistant professor of music and director of choral studies at Northwestern, while Matt Johnson, director of choirs at Enid High School, will instruct the junior high students. All groups will have the opportunity to rehearse alongside members of the Northwestern Chorale and University Singers.
Longhurst noted that students should bring their own music to the rehearsal, where they will break out into sectionals along with singing together.
A free lunch will be served after rehearsal.
If interested in attending solo or with a group from a school choir, please register with Longhurst at krlonghurst@nwosu.edu or at (580) 327-8692.
-NW-