J.R. Holder Wellness Center Leadership Changes
August 24, 2021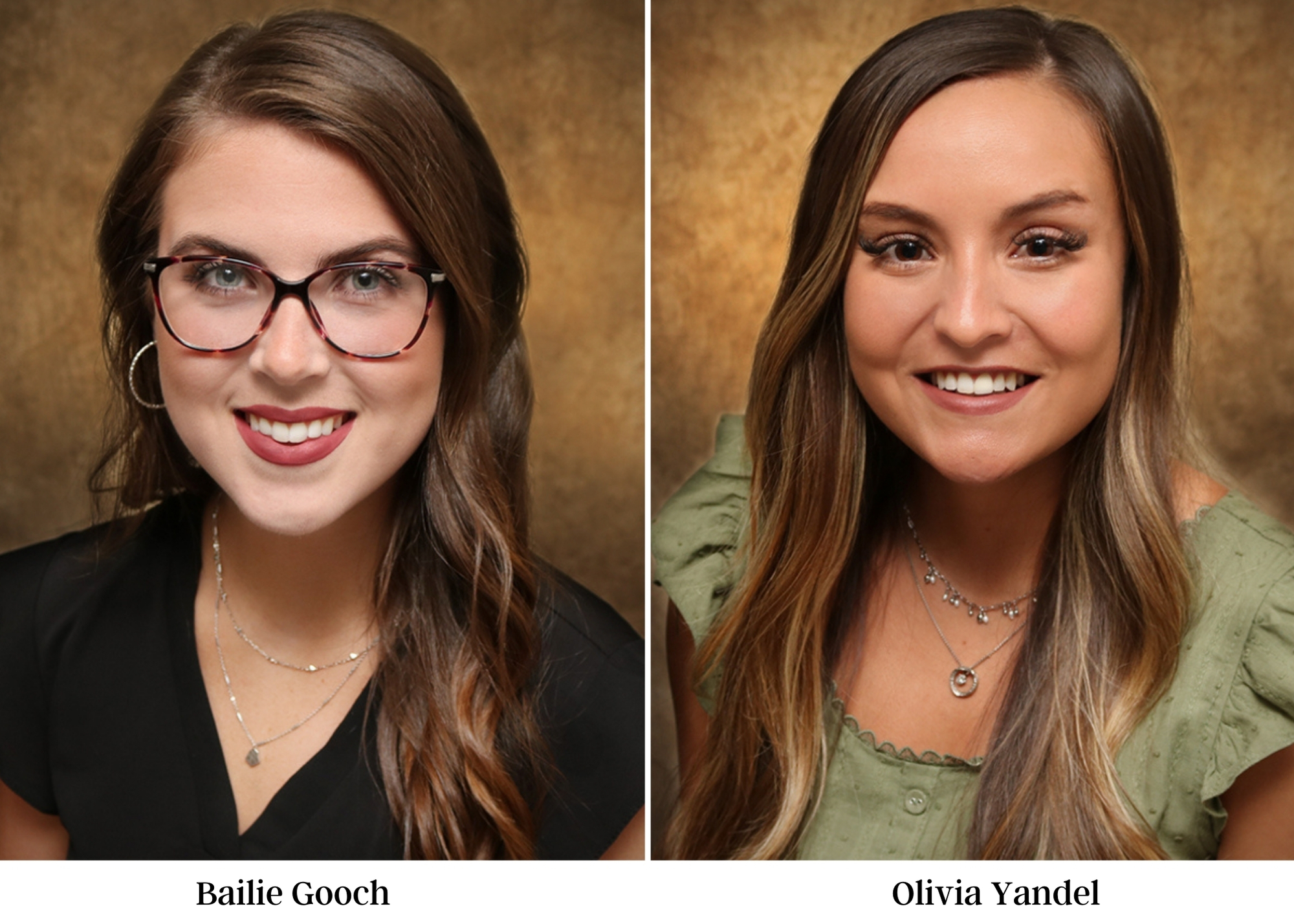 The J.R. Holder Wellness Center is under new leadership. Olivia Yandel of Kiowa, Kansas, has been named the new director, and Bailie Gooch of Stroud has been named the assistant director.
Yandel served as the assistant director for two and a half years before taking on the director position recently.
"I am extremely excited about the opportunity to better the Wellness Center," Yandel said. "I have such a passion for wellness and people, so being able to oversee this fantastic facility like all of the other amazing directors before me is such an honor."
Yandel said the staff is looking forward to bringing more community members into the facility through various challenges and incentives. She said her goal as director is to make the facility the best possible, whether that be by bringing in more equipment for the members, offering a larger variety of group exercise classes or just simply being available to listen to the members' recommendations.
"I hope that Bailie, my staff and I can provide a positive experience for anyone who uses the facility," Yandel said.
Gooch previously worked at the Wellness Center for two and a half years as a student, staff member and personal trainer.
She said the staff is excited to start hosting more challenges for the Wellness Center members to spark motivation and engagement.
Listed below are a few upcoming Wellness Center challenges:
Aug. 15 – Sept. 30: Refer A Friend
Refer as many friends to sign up for a membership as possible to compete for a FREE VIP membership
Sept. 1 – 30: "Step"tember
Track steps for the whole month of September. The person with the most after the final day will win a Northwestern swag bag
Oct. 9: Ranger Run 5K/Fun Run
Participate in the annual Homecoming 5K Ranger Run or the 1-mile Fun Run on Alva's Downtown Square
Nov. 20: Turkey Tri
Put together a team of three to compete in a tag team relay half triathlon (5K run, 12-mile stationary bike, 800m. swim)
Dec. 1-23: 12 Days of "Fits"mas
Check-in at least 12 days to earn a free one-month membership
Jan. 3 – Feb. 28: Transformation Challenge
Eight-week transformation challenge to help start the new year by getting in shape. One winner will be rewarded for the best all-around transformation.
"I'm looking forward to serving the community of Alva by providing a welcoming, clean and safe environment for people to engage in their favorite activities to promote health and wellness," Gooch said. "I believe that the J.R. Holder Wellness Center is a wonderful asset to our community."
For more information about the J.R. Holder Wellness Center contact Yandel at (580) 327-8109 or oayandel@nwosu.edu.
-NW-
CONTACT FOR RELEASE
Erin Davis, University Relations Specialist
eedavis@nwosu.edu, 580-327-8480