International Students Offering Annual Festival of Cultures April 20
April 11, 2018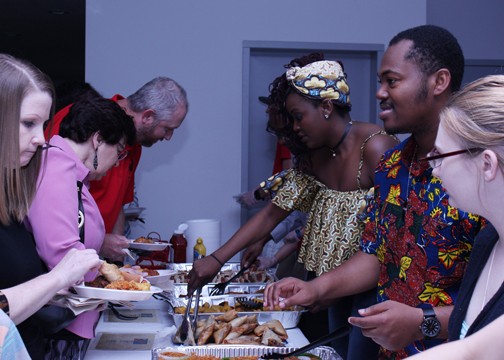 Students from last year's Festival of Cultures share their authentic food from countries such as Nepal, Mexico, Ghana, Nigeria and more. Along with the meal, informative presentations and native dances are displayed for participants to enjoy.
International food, culture, displays and performances will be available for enjoyment at Northwestern Oklahoma State University on Friday, April 20, at 7 p.m. in the Student Center Ballroom during the annual Festival of Cultures and is open to the public.
This event brings Northwestern international students together with campus and community members to share food and information about the students' home countries.
"The members of the International Student Association have been working very hard this semester to bring our annual Festival of Cultures to Northwestern," Becca Cook, international academic adviser, said. "Guests will experience a unique dining experience that only comes to this area once a year. Come enjoy various dishes and performances from some of the countries that have brought students to our university. This is a great opportunity to show these students that we support their cultures and are honored to have them in Alva."
Tickets to the event for adults age 13 and up are $10. Tickets for Northwestern students (with ID) and children ages 4-12 are $5, and children under 4 are free. The International Student Association encourages everyone to purchase tickets in advance to assist in their preparations.
A few members of the Festival of Cultures' marketing team will be selling tickets on April 18 in the mall area in front of the Library, or inside the Student Center if the weather isn't cooperative.
Tickets may be purchased at the door for $2 extra per ticket. The public is encouraged to attend and learn about different cultures that have come together at Northwestern. Students will perform ethnic dances, songs and more.
"There is going to be a traditional Nigerian dance, a Nepali performance, an African dance, a multi-lingual speech presentation, a solo Spanish singer and two instrumental performances," Oluwatoyosi Kaffi, a junior from Lagos, Nigeria and vice president of the International Student Association, said. "We look forward to having a great time with everyone."
Countries represented include Nepal, Mexico, Ghana, Nigeria and more. The event is sponsored by the International Student Association.
For tickets or more information contact the International Student office at (580) 327-8435 or international@nwosu.edu.
-NW-
CONTACT FOR RELEASE:
Erin Davis, University Relations Specialist
eedavis@nwosu.edu, 580-327-8480