Howdy Week at Northwestern to be filled with fun events, free food for students
August 13, 2019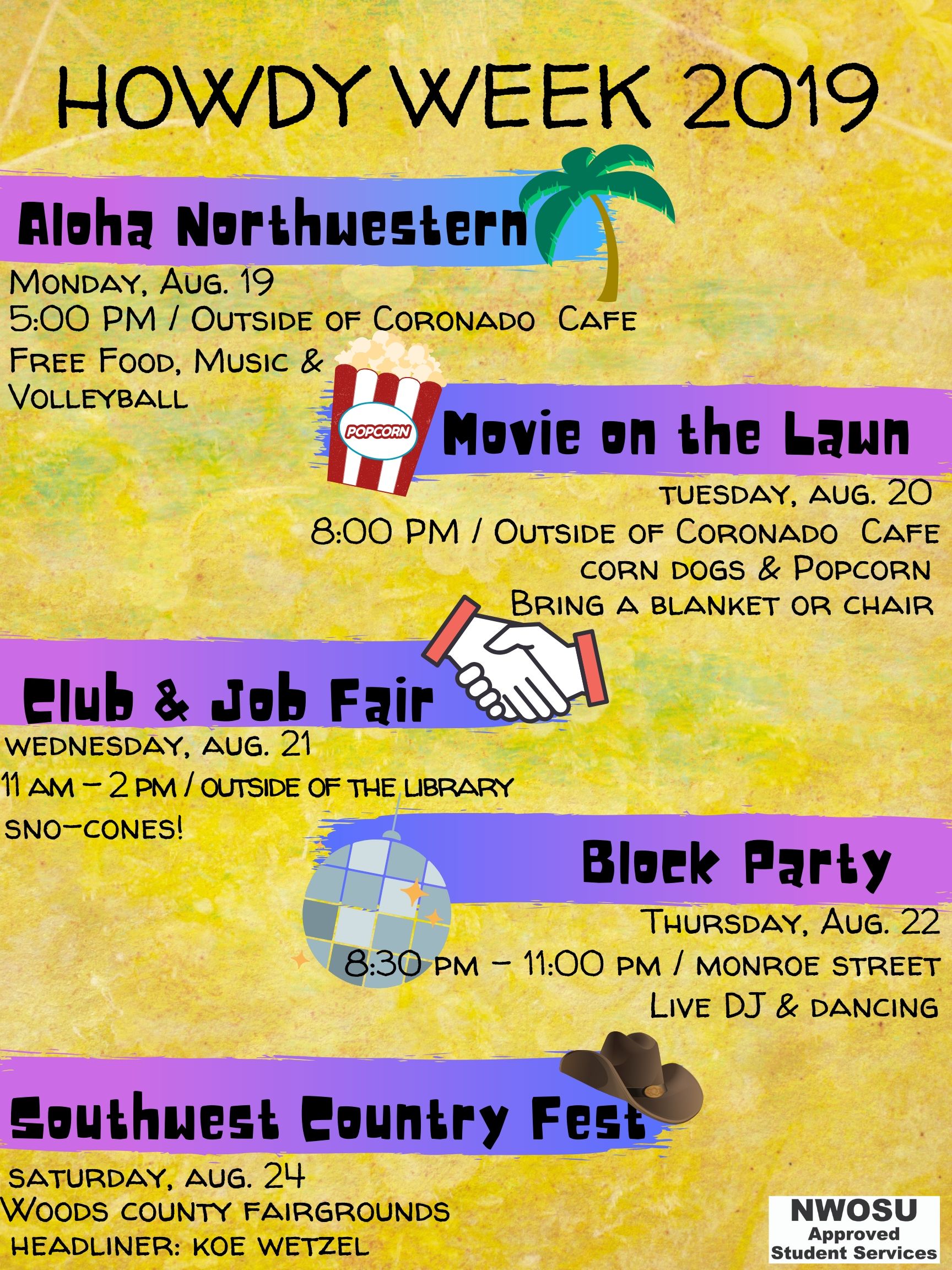 Northwestern's Student Government Association (SGA) will sponsor a week of fun events for students at the Alva campus Monday through Thursday, Aug. 19-22.
SGA members have chosen the first day of classes to kick off the Alva campus Howdy Week excitement with "Aloha Northwestern" for all Northwestern students. At 5 p.m. on Monday, Aug. 19, on the Intramural Field will be a cookout, slip n' slide, dunk tank, volleyball tournament, music and fun. The Rowdy Rangers will be cooking the food, and Alva State Bank will be serving coke floats.
Day two of Howdy Week will be "Movie Night" at 8:30 p.m. on Tuesday, Aug. 20. Just south of Coronado Café will be a movie playing for students, topped off with free corndogs and popcorn. Students are encouraged to bring a blanket to sit on.
There are two events planned for Wednesday, Aug. 21. There will be a club and job fair at 11 a.m. in the mall area of campus. A Frosty Joe's Sno-Cone will be provided by SGA to students who get three club signatures. The back to school mandatory meeting for all students living in the residence halls will be at 7 p.m. in Herod Hall Auditorium.
The event for Thursday, Aug. 22, is a "Block Party" from 8:30 to 11:30 p.m. on Monroe Street, between South Hall and Coronado Hall. The block party will have plenty of free food, music, dancing for the students and overall socializing for Rangers to get to know other students on campus.
For more information contact Olivia Yandel, assistant director of J.R. Holder Wellness Center and SGA co-sponsor, at (580) 327-8105 or oayandel@nwosu.edu.
-NW-
CONTACT FOR RELEASE
Erin Davis, University Relations Specialist
eedavis@nwosu.edu, 580-327-8480